Crank 2: High Voltage—Lionsgate (Blu-ray)
Video: 4.5/5
Audio: 4.5/5
Extras: 4/5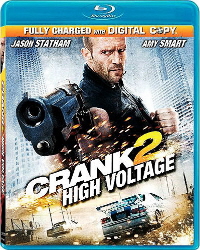 Chev has managed to survive and is about to face a brand new day. Picking up immediately where the first movie left off, "Crank 2: High Voltage" finds Chev surviving the climactic plunge to his most certain death on the streets of L.A., only to be kidnapped by a mysterious Chinese Mobster. Three months later, Chev wakes up to discover his nearly indestructible heart has been replaced with a battery-operated ticker that requires regular jolts of electricity in order to work.
Picking up right where the last one left off, Crank 2 is just more of the same old insanity from the first film. I was really enjoying this non-stop thrill ride until about the third act where the film takes off on some pretty out there tangents, which is saying something for this series. There is still lots of fun to be had here though, so long as you turn off the brain and turn up the volume.
The first film looked great on Blu-ray and this one is just more of the same. The film was shot with consumer grade HD cameras and has a very detailed look. At times the detail can look a bit exaggerated, but that was obviously the intent of the director. Fine object detail is outstanding through most of the film and the color palette provides plenty of pop. Deep blacks add to the contrast and dimension of the image and only some light shimmering distracts.
The DTS-HD Master Audio soundtrack is loads of fun with great dynamic range and plenty of loud rock and punk tunes. This film doesn't let up much and neither does the soundtrack. Plenty of surround effects, deep bass extension and witty sound design.
Lionsgate delivers a 2-disc set for this one that includes a digital copy of the film for your portable devices. You also get their MoLog feature for sharing with your friends on BD-Live. An audio commentary and making of features are packed in along with a picture-in-picture mode for interviews and comments during the film. You also get a gag reel and the trailers.
While not quite as good as the first installment, Crank 2: High Voltage still serves up a lot of hard R fun. Lionsgate delivers a solid presentation making this one an easy recommendation for fans of the series.
LATEST VIDEO