Constantine—Warner Bros. (Blu-ray)
Video: 4.25/5
Audio: 4.5/5
Extras: 4/5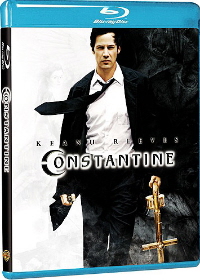 "Constantine" tells the story of John Constantine, a man who has literally been to hell and back. When he teams up with skeptical policewoman Angela Dodson to solve the mysterious suicide of her twin sister, their investigation takes them through the world of demons and angels that exists just beneath the landscape of contemporary Los Angeles. Caught in a catastrophic series of otherworldly events, the two become inextricably involved and seek to find their own peace at whatever cost.
One of the earlier titles on HD DVD that just didn't make it to Blu-ray finally comes to the format. I must admit, I really like this one. Reeves is in rare territory as the anti-hero and the stylized photography and cutting edge special effects make for a thrilling graphic novel adaptation. This is a character I hope Warner revisits with the same care soon.
The HD presentation looks to be identical to the previous HD DVD release, which isn't a bad thing. The stylized palette really lends itself to the HD presentation with rich detail and stark contrast levels. Blacks are especially deep but never infringe on shadow detail and depth. Colors have a dark quality to them with deep reds and greens and the CG effects are some of the cooler ones I've seen in this type of genre.
The Dolby TrueHD 5.1 mix is quite engaging with excellent surround presence and low range response. The mix is quite inventive in its use of the surrounds to add atmosphere and subtle nuances to the soundstage. I also love the presence of the film's musical selections; the first meet at Papa Midnight's place is a great example of capturing the presence and range of a true club atmosphere and shows off just how good HD audio can be. Dialogue is balanced nicely within the mix and I loved the precise imaging across the mains. A great lossless soundtrack.
Extras are largely the same as the previous HD DVD release. This film features a picture-in-picture track that gives you insight into the production and concepts of the film with the director commentary. There is also a large assortment of production features that delve into the creation of the film and the visuals and concepts of the film. 18 deleted scenes are included along with an alternate ending and two feature commentaries are included. Last up are the trailers and a music video from A Perfect Circle.
This has been one of my favorite graphic novel adaptations of recent memory and Warner has done a great job with this Blu-ray release. The A/V presentation is outstanding and the production values of this one are really strong. I really hope this is a franchise that is revisited soon.
LATEST VIDEO