Cloudy With a Chance of Meatballs—Columbia Pictures (Blu-ray)
Movie: 2.5
Picture/Sound: 4.5/4.25
Extras: 3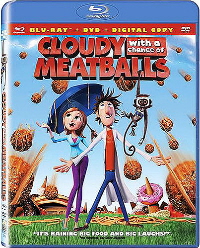 "Cloudy With A Chance Of Meatballs" tells the story of an eccentric wannabe scientist, Flint Lockwood. His latest contraption is a miraculous device designed to solve the world hunger crisis. But when Flint bites off more than he can chew, he sets in motion a global disaster of epic proportions
Sony animation hasn't quite gotten the buzz of the more popular Pixar and Dreamworks animation houses. They've delivered some solid features though with their Academy Award winning "The Chubb Chubbs", "Open Season", and the painfully underrated "Surfs Up". Since I'm already quite a fan of their previous work I had high hopes going into this one. While the animation holds up quite well, the story fell pretty flat for me. The characters were uninspiring and the film just didn't seem to resonate many themes for the family despite really trying to cover a few. Ultimately silliness reigned and I felt my attention span wavering way too often.
Animation just always looks so good on Blu-ray and this is no exception. The animation style reminded me of an updated take on the stop motion stuff we used to see with old holiday animated features. Colors are drab for most of the film but perk up substantially as the chaos begins. The image has a great sense of dimension to it, but I don't think it dazzles as much as some of Sony's previous efforts. The soundtrack is a winner though with great spatial design and plenty of dynamics and surround effects.
The 3-disc set includes a DVD plus a digital copy of the film. Unfortunately the digital copy is only for PSP game systems. Way to keep it proprietary Sony! Extras include a look behind the scenes of the animating process plus some extra fun from the soundtrack. On the interactive side the Blu-ray allows the young ones to throw virtual food at the screen using the remote. There is also a food fight game.
While the animation did look quite good most of the time, this one fell short of my expectations from Sony. If you like the film though, the Blu-ray does deliver a solid presentation.
LATEST VIDEO