Chocolate—Magnolia (Blu-ray)
Video: 3.75/5
Audio: 3/5
Extras: 1.5/5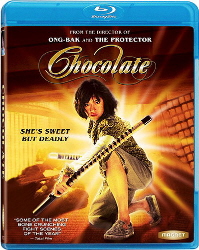 A young autistic girl learns to fight from watching TV and the fighters from the boxing school next door. When she finds a list of debtors in her ailing mother's diary, she sets upon a violent quest to collect payment for medical expenses. Her quest is a dangerous one that ultimately leads her to her father, a mafia member of the Yakuza.
This is a martial arts film from the same people that have brought the Ong Bak films to the big screen. The stunt work is quite impressive and this crew does all their own work and no wires are attached. The film is a bit simple and the production feels like a B-Movie more than a feature release. The storyline rises above the production though and the martial arts on display are quite impressive if you're into that sort of thing. I wouldn't be surprised if we saw a bigger budget play on this material later down the road.
The film was shot with HD cameras but the quality of the video varies more than I would expect from this type of production. Most of the time the image is very clean and detailed and the colors have a very vivid quality to them. But some of the medium shots look like they were shot with a different camera and upscaled giving an impression of false resolution and some minor scaling artifacts like ringing. Contrast levels are strong for the most part but whites do appear clipped from time to time.
The soundtrack is presented in its native Thai dialogue in DTS-HD Master Audio. Magnolia has been pretty disappointing with their subtitles in the past and this is no exception. There are two versions of English subtitles for this film. One works only part of the time and the only one that works all the time is the descriptive type with random pop ups for sound effects. Honestly, it can't be that hard to include a standard set of English subtitles that aren't for the hard of hearing. The sound design shows the low budget roots of this film. The score sounds like an 80's film with bad synth use and the sound effects are pretty cliqued. Dialogue sounds fine though the dubbing doesn't sound as natural as most Hollywood efforts.
Extras include a few trailers for other Magnolia titles and a making of feature that gives some nice insight into the film's stunt work and actors.
Martial arts fans will not want to miss the impressive stunt work and choreography at work here. I wish the subtitle issue could be fixed but aside from that the A/V presentation isn't too bad considering the budget involved. Worth a rental for fans of the genre.
LATEST VIDEO