The Ice Storm; Lust, Caution
Criterion
---
Movie •••½ Picture •••• Sound •••• Extras ••••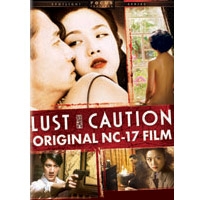 Universal
---
Movie •••• Picture •••• Sound ••••½ Extras ••
Of these two Ang Lee entries, his 1997 adaptation of Rick Moody's novel The Ice Storm was the director's first American film. It's set in 1970s suburbia, where the moral and sexual malaise of the grown-ups (Kevin Kline, Joan Allen, and Sigourney Weaver) is echoed in the confused behavior of the adolescents (Tobey Maguire, Christina Ricci, Elijah Wood, Adam Hann-Byrd, and Katie Holmes). Their often unsympathetic behavior can be tough to watch, but the astounding cast makes the most of the material. At the same time, Lee manages a number of memorable images - not the least of which are in the titular storm, which climaxes with one of the strangest and most shocking death scenes in film history.
Criterion has gone even farther overboard than usual in this two-disc set: Besides a decent commentary by Lee and screenwriter James Schamus, there are numerous making-of and interview featurettes plus some interesting deleted scenes. The DVD transfer is excellent on detail, right down to Weaver's makeup (which looks like a sort of sexual warpaint), without compromising the picture's wintry lighting. The soundtrack is Dolby Stereo, but because it's doubled in the rear, you actually end up with some superb ambient effects, including the icy rain of that storm.
Last year's Lust, Caution finds Lee focusing on a different sort of family: a troupe of Chinese student actors who become resistance fighters against Japanese occupiers in 1942. One of them, Wong (an amazing screen debut by Wei Tang), manages to get close to the powerful, hated Chinese collaborator Yee (Tony Leung) - NC-17 close, to be precise. (An R-rated version is also available.)
Lee's somber take on love, duty, and identity is shot with lavish color and production values that recall MGM epics. The image quality reflects this, richly colored and respectful of shadows that partly cloak faces and bodies. The sound-effects track of the Dolby Digital 5.1 mix is one of the most dramatically detailed I've encountered, putting you right in the middle of wartime Shanghai. The only extra is a making-of short that does provide some pertinent information on the production.
LATEST VIDEO