Casino Royale Collector's Edition—MGM/Sony Pictures (Blu-ray)
Video: 5/5
Audio: 5/5
Extras: 3.5/5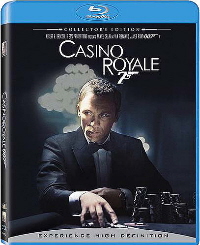 "Casino Royale" introduces James Bond before he holds his license to kill. But Bond is no less dangerous, and with two professional assassinations in quick succession, he is elevated to "00" status. "M", head of the British Secret Service, sends the newly-promoted 007 on his first mission that takes him to Madagascar, the Bahamas and eventually leads him to Montenegro to face Le Chiffre, a ruthless financier under threat from his terrorist clientele, who is attempting to restore his funds in a high-stakes poker game at the Casino Royale. "M" places Bond under the watchful eye of the Treasury official Vesper Lynd. At first skeptical of what value Vesper can provide, Bond's interest in her deepens as they brave danger together. Le Chiffre's cunning and cruelty come to bear on them both in a way Bond could never imagine, and he learns his most important lesson: Trust no one.
I grew up on James Bond. My father is a HUGE fan of the series, and I've seen every one of them numerous times. While I've always enjoyed the series, it had been getting a bit silly as of late. The reliance of gadgets and rather stupid humor was getting out of hand, and I think the real Bond was starting to become a bit of a memory. Any fan of the books could attest to this. Casino Royale was also released in 1967, with Peter Sellers and David Niven. It was a comedy. The 2006 version is far from that.
This new film does what Batman Begins did for that franchise: resets it. Now we have a new Bond who is harder, crueler, and far more serious. This is much closer to the Bond in Fleming's novels and far more entertaining in my opinion. I only hope the trend will continue. I enjoyed this one immensely and am already looking forward to the next installment hitting theaters next month.
Things look pretty much unchanged here on the presentation side, which is fine by me. This has always been one of the best Blu-ray transfers around and Sony has done an impeccable job with the HD presentation. Fine object detail is impeccable and the lush color palette makes for a gorgeous piece of demo material. Depth of image and dimension are top tier and contrast levels are always strong. Honestly, it doesn't get much better than this.
The Dolby TrueHD 5.1 soundtrack is a great mix of dynamics and subtle sound design. I love the score, love the sound effects, and love the incredible range of the action sequences. Bass response is incredibly tight with impressive extension and the surround soundstage always has a very natural sense of environment.
This is an obvious ploy to stir up attention to the new film and get some interest reinvigorated for this film as well. There is no new cut but Sony has managed to include quite a few supplements that were not in the previous edition. This film features Bonus View picture-in-picture video commentary with the director and producer along with a crew commentary. There is also a pretty cool Bond trivia feature for the hardcore fan. The second disc is where the main supplements lie including deleted scenes and a host of production features including on set interviews, locations and a storyboard to scene comparative. For the real Bond fan there are some interesting insights into the story creator, Ian Fleming and a look at the Bond character and the beautiful women of the series. Last up is the music video for the film's theme. Overall a very nice supplementary package with some new goodies not previously available.
Easily one of the best action films of the last decade and the reboot this franchise really needed. I would dare say this is the best Bond film of them all and Sony has delivered a reference quality video and audio presentation. Film buffs may want this one for the new features but if you are just in the market for A/V presentation, you won't find anything new here from the last release.
LATEST VIDEO