Black Death—Magnolia Pictures/Magnet
Video: 3.5/5
Audio: 4/5
Extras: 3/5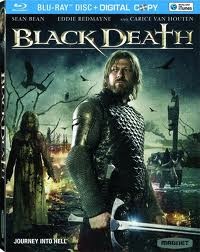 The year is 1348. Europe has fallen under the shadow of the "Black Death". As the plague decimates all in its path, fear and superstition are rife. There are rumors of a village, hidden in marshland that the plague cannot reach. There is even talk of a necromancer who leads the village and is able to bring the dead back to life. Ulric, a fearsome knight, is charged by the church to investigate these rumors. Their journey to the village and the events that unfold take them into the heart of darkness and to horrors that will put their faith to the ultimate test.
Magnolia delivers a good HD presentation for this dark medieval tale. Overall detail is solid with only some long shots introducing some slight softness to the image. Darker sequences have obvious film grain that some might find slightly intrusive at times. Mild compression artifacts were also noted from time to time, mainly in the form of slight blocking and banding in low light scenes. The color palette is slightly muted but it befits the tone of the film. The DTS-HD Master Audio mix is very moody and compliments the tones of the film perfectly. Surrounds are used effectively in the more intense sequences and draws you in to the intensity of the film. Low bass response is a bit limited but there when it's needed. The balance of elements is excellent though and the front soundstage paints a very convincing sonic picture.
Extras revolve around the production and include some behind the scenes footage and interviews with the cast and crew. You also get a feature on the making of the movie from HDNet. Some deleted scenes and trailers are also included. Inside the package you'll also find a code for downloading a digital copy of the film from iTunes, a trend I hope to see more of from Anchor Bay.
This is a pretty dark film with some underlying religious themes that some might not be comfortable with. The production design is fantastic though and I enjoyed the film's story and performances. Easily worth a rental!
LATEST VIDEO