Humpback Whales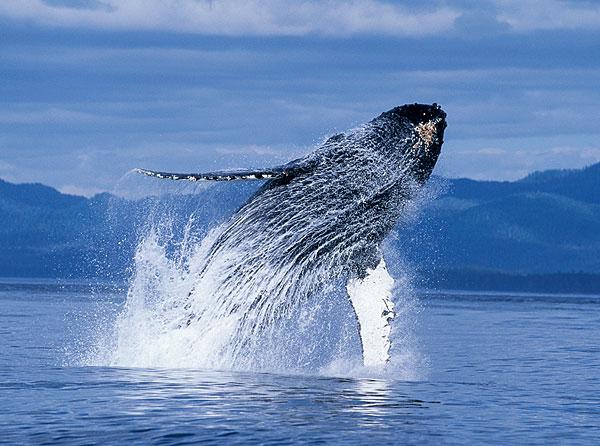 This documentary, presented by Pacific Life, is set in three locations— Alaska, Hawaii, and the remote islands of Tonga, taking the viewers up close and personal with these 40-ton creatures. In the 40-minute time frame, you'll learn a bit about their history, why they were hunted—and still are in some countries—their migration patterns, and theories about their mating habits. Overall, it's informative but seems geared toward a younger audience. While I enjoyed it, I would have liked to have seen it go into more depth.
Shout! Factory offers a variety of viewing options in the two-disc set. There's a 4K UHD Blu-ray Disc with the option to watch with or without HDR (high dynamic range) and a Blu-ray with both 2D and 3D options. The only thing missing is a DVD, but they at least include a UV Digital Copy. My first foray was with the UHD 4K version, which has some drop-dead gorgeous visuals. The exterior IMAX shots of the various locations teem with detail and vibrant colors. The only negative I found was some banding in the underwater shots, which may be due to the underwater cameras; I assume it's in the source since it appeared on all versions I tested. The 4K sans HDR is virtually identical to the HDR version without some of the bright highlights from the sun. The Blu-ray looks great as well, but comparing it with the 4K shows it's not quite as sharp and the colors are a tad dimmer versus the wide color gamut that 4K offers. 3D fans will be pleased with the results for the added depth at the expense of brightness.
All disc-based viewing options come with a Dolby Atmos track, which only highlights the overhead speakers on a couple of occasions. The LFE could dig a little deeper with the whales' songs and breaches, but maybe I'm too picky.
Supplements include a short making-of featurette and trailers of other IMAX films in 4K.
Blu-Ray
Studio: Shout! Factory, 2015
Aspect Ratio: 1.85:1
Audio Format: Dolby Atmos / TrueHD 7.1 core
Length: 40 mins.
MPAA Rating: Not Rated
Director: Greg MacGillivray
Starring: Ewan McGregor
By the mid-1960s, it was estimated that 90 percent of the humpback whales were gone from the Earth when a moratorium was put in place throughout most of the world. Fortunately, the population started to grow again, and there's now an estimated 80,000 throughout the world. I'm old enough to remember the "Save the Whales" campaign in the mid-1970s as well as George and Gracie from Star Trek IV: The Voyage Home in 1986 where it took the songs of the humpbacks to save Earth from sure destruction by an alien vessel.