Humax DRT800 TiVo DVR/DVD Recorder
No more excuses; it's time to go digital.
Since the arrival of the DVD recorder several years ago, reviewer types have speculated about just what would have to take place for the DVD recorder to gain mass acceptance and replace the VCR in people's homes. Obviously, price needed to drop way below the original four-figure mark, but what else? Ease of use? Naturally, but how easy is easy? Features? Maybe. VCRs aren't exactly feature-laden themselves, but that doesn't stop everyone from owning one.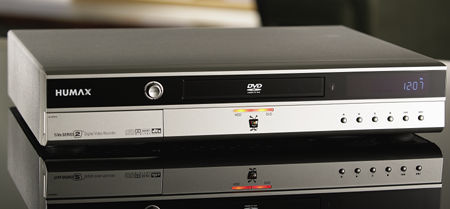 Humax has wisely decided to hedge their bets and offer all of the above and then some in their first DVD recorder. The DRT800 includes a DVD-R/-RW recorder, a progressive-scan DVD player, and an 80-gigabyte hard drive that uses the TiVo Series2 interface. Not a bad call. People already love DVD and TiVo; rather than buy two separate boxes, why not just spend $499 for this unit and get DVD recording and a media server in the deal?
Slow and Easy
We've reviewed quite a few TiVo-based DVRs in the past, so I won't detail the various steps in the setup process. Suffice it to say, it's a breeze: Between the included "Start Here" connection pamphlet and the onscreen user interface, everything is clearly detailed.
It's worth noting that, while setup is straightforward, it's not quick. It takes about an hour to complete TiVo's Guided Setup process. You give the device the necessary info about your system and signal source, and it contacts the mother ship to configure your settings. You can't use the DRT800 until it's done—not even as a basic DVD player. So, don't pop the popcorn before you set this thing up.
Component video and optical digital audio are the highest-quality A/V outputs from the DRT800 to your display and/or receiver. But, as is typical with the current crop of recorders (for copy-protection reasons), S-video is the highest-quality input to the DRT800 from your cable or satellite box. As a result, the quality of recorded material will be lower than if it had been input as a component video signal or better, especially on a big-screen HDTV. While this might be a frustration for the enthusiast who has paid more than a grand for a recorder, it's a bit more forgivable in a $499 device that's geared more toward the average viewer with an average-sized TV.
Performance Matters
If I were reviewing the DRT800 as a standalone DVD player, it would score high performance marks. Through our Philips PM5662 waveform monitor, using Video Essentials' frequency sweep test pattern, the DRT800's resolution was excellent in interlaced mode, showing only a slight rolloff at the highest frequencies. In progressive mode, the resolution was slightly diminished at higher frequencies but still quite good. The Avia Pro test DVD showed that the progressive signal doesn't drop to the –3-decibel point until about 6 megahertz, although it drops dramatically after that, reaching –6 dB at 6.5 MHz and showing noticeable banding in the 6.75-MHz circle. While the DRT800 may not be able to resolve the finest details, it has plenty of resolution to satisfy a DVD enthusiast.
As for its processing abilities, it picked up the 3:2 film sequence in VE's Snell & Wilcox Zone Plate test very quickly and had little difficulty with real-world film-based signals, like the complex rooftops in chapter 12 of Gladiator or the ornate buildings in The Bourne Identity.
Unfortunately, the player's processing of video signals is below average; it created a lot of jaggies and combing artifacts with both test discs and real-world material. Now, in a standalone player, I'd downplay this, stressing that it's more important for the player to handle film-based signals, as that's what you're probably going to watch the most. Unfortunately, this is also a DVR through which we're expected to watch video-based TV signals on a daily basis. In progressive mode, I noticed way too many artifacts during average TV watching, especially sporting events. Likewise with video-based DVD bonus material and video that I transferred from my digital camcorder to the hard drive via the FireWire connection. The combing was distracting, so I ultimately turned off the progressive scanning.
Is this a fatal flaw? Given the DRT800's price point, I don't think so. My screen is more than 55 inches diagonally. When I mated the player with a 32-inch display—perhaps a more-realistic screen size for the DRT800's target audience—the artifacts were still evident but less distracting. The average consumer looking to step up from a VCR probably doesn't care that much about or even plan to use progressive scanning. If TiVo's popularity is any indication, they care about being able to pause live TV, fast-forward through unwanted content, and find and record their favorite shows quickly and easily.
The DRT800 gives them this—for the standard $12.95-per-month fee. Unlike some previous TiVo-based DVD recorders, this one doesn't feature the free TiVo Basic service that offers basic DVR functionality and a three-day program guide. You must subscribe to the standard TiVo package.
Like all TiVos, you have your choice of four quality settings, which affects how much content you can fit on the hard drive or burn to a DVD: best (18 hours on the hard drive/1 hour on DVD), high (27/2), medium (55/4), and basic (82/6). To provide a better-looking picture for daily viewing, the DRT800 shows all live TV at the best setting, even if you've selected a lower setting as your default for recording.
Record Time
OK, so the big moment has arrived. You've recorded something to the hard drive that you want to keep permanently or perhaps loan to a friend. The DRT800's DVD-burning function is as straightforward as it gets. When you select "Save to DVD," your hard drive's content appears on the screen, with a percentage beside each program that tells you how much space it will use on DVD-R/-RW. You can select multiple programs to burn on the disc; as you add them, the DRT800 tells you how much room is left on the DVD and puts an X beside any program that won't fit. Then you enter a name for the disc and hit "Begin saving to DVD." That's it. The recorder burns and finalizes the disc, so you can't add more content later. (Even with a DVD-RW, you can't add content to an already-used disc; you can only erase the disc and start over.)
While the disc is burning, you can still record to the hard drive and watch live TV or any previously recorded hard-drive content. The front-panel display keeps you informed of the recording's progress. It really couldn't be easier or less intrusive.
Of course, in exchange for that simplicity, you lose some advanced functionality. You can't edit the content, insert your own chapter breaks (they're automatically inserted every five minutes), or combine multiple programs into one title before burning it to a disc. The recorder burns exactly what the TiVo recorded (commercials and all), be it from your cable or satellite box, external VCR, or camcorder.
Now Serving
The icing on the cake is the Home Media feature, which is now free with all TiVo Series2 DVRs (it used to be a $99 option). Using a USB port on the DRT800's back panel and a USB-to-network adapter, the Home Media feature lets you download the daily TiVo program-guide updates via your broadband Internet connection, transfer a show from one TiVo Series2 box in your house to another one on your network, and access your computer's MP3, WMA, and JPEG files, all through a wired or wireless network. You'll need to download software from TiVo.com to every computer (either Mac or Windows) that you want to access through your DRT800.
My home network consists of a cable modem and a Belkin router with Ethernet ports, so I needed to purchase a USB-to-Ethernet adapter (about $40). When I plugged the adapter into the DRT800 and ran an Ethernet cable to the router, the DRT800 immediately noticed that I had added the adapter and asked me if I wanted to change my settings. As it does with everything else, TiVo walks you through the process of setting up the network; what you don't get from the onscreen menu, chapter 7 of the owner's manual clearly explains. I was enjoying content from the iTunes and iPhoto folders on the Mac in my office in about 10 minutes.
Also through TiVo.com, you can remotely schedule recordings for your DVR, should you realize when you're away that you've forgotten to set the device to record something. You can do this even if your DRT800 is set up to receive its updates through your phone line, but it can take up to 36 hours to register the request; through a broadband connection, my request appeared within an hour.
With the DRT800, Humax might just have found the perfect blend of price, performance, features, and usability to usher in the DVD-recording era. I'd like to see improved progressive-scan performance and advanced editing features; however, as a value enthusiast, I can't deny how many worthy features the DRT800 offers for such a reasonable price. I can in good conscience recommend this recorder to anyone who's looking to finally put their VCR out of its (and everyone else's) misery.
Highlights
• DVD burning is a snap
• The media-server function is a nice bonus