Humax DRT800 DVD/TiVo Recorder Page 2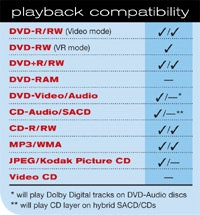 SETUP Getting any TiVo device up and running is time-consuming but pretty straightforward. First off, you need a phone jack and a credit card. You call TiVo and subscribe to the service, then connect the recorder to the phone jack, direct it to dial up TiVo, and wait for it to download the program guide - an unusual procedure for home theater gear. But the process is nearly idiot-proof thanks to the guided setup menus and the plain-English manual.
Connecting the Humax to a home network can be easy or hard, depending on whether you use a wired or wireless hookup and whether your computer can automatically recognize the DRT800 and perform the setup routine for you. Using a $30 TiVo-recommended USB-to-Ethernet adapter, I had no problems getting our office network to recognize the Humax for music playback and photo viewing. But the recorder couldn't download program data from TiVo, possibly because of firewalls.
OPERATION The Humax works like every other TiVo-equipped DVD recorder I've tested: with blissful simplicity. TiVo is easily the best thought-out system for selecting and scheduling live TV programs to be recorded, and the DRT800 supplies all the familiar and formidable TiVo tools. You can search for specific types of programs to record (such as all karate matches) or obtain a Season Pass to automatically record all the episodes of, say, Alias, regardless of when and where they air. You also get a choice of four modes that trade off recording time on a blank DVD for improved picture quality: Basic (6 hours), Medium (4 hours), High (2 hours), and Best (1 hour).
Humax's extension of the TiVo menu system and remote control to DVD makes dubbing and even playing movie DVDs more enjoyable. Dubbing from the hard disk, especially, worked like a charm. Copying is done at high speed, with the processing time dependent on the quality of the hard-disk recording and whether you're using a blank DVD-R or DVD-RW.
PLUSEasy-to-use onscreen menu system. TiVo program guide. Fine recording quality on both hard disk and DVD. Network connectivity.
MINUSNo editing features whatsoever. Lengthy TiVo setup procedure
Even if you use a DVD-RW, the recording will be a "finalized" disc in the widely compatible Video format, not the editable VR format. And for any shows originally recorded using TiVo's program guide, the DRT800 will automatically place an impressive menu system on your recorded DVD using TiVo graphics and including a short synopsis, the original air date, a program rating, and program categories. For example, a dub of Nova from PBS was labeled "Anthology, Science" and rated TV-G. This feature is likely to be very helpful if you amass a lot of keeper discs.
BOTTOM LINE Humax might have sacrificed some editing features in the DRT800, but it was a smart move since studies show that most people never edit their programs, either on hard disk or when they transfer them to DVD. If you're one of them, the DRT800's elegance and ease of use should make it pretty much irresistible.
---
In the Lab
DVD-VIDEO PERFORMANCE Maximum-white level error(composite) ............................................................ 0/0 IRE
Setup level (composite) .......................................... 0 IRE
Onscreen horizontal resolution .................... 540 lines
Horizontal luminance response(progressive-scan, re level at 2 MHz) 6/8/10 MHz ...................................... +0.25/+0.25/±0 dB 12/13.5 MHz ............................................... -1.1/-2.5 dB
In-player letterboxing .............................................. good
The Humax DRT800's performance was in line with what we've come to expect from well-designed DVD players and recorders. Resolution was fine for DVD movies, as was progressive-scan performance for material that originated as film, with no color smearing or jagged diagonals. As often happens, material from video sources - like concert videos - looked a bit rougher in progressive-scan playback, especially on diagonal edges.
In recording, I got essentially identical performance from the TiVo hard drive and DVDs dubbed from hard-disk programs. The Humax, like every other DVD recorder I've tested, halves its horizontal resolution (from 540 lines to approximately 270 lines) in its two "slowest" recording modes (Medium and Basic). But unlike many other recorders, the Humax preserved vertical resolution even in Basic mode, with no jerkiness on moving objects. Of course, the tradeoff is the increased visibility of encoding artifacts like "mosquito" noise (a fuzzy "busyness" around the borders of objects). Humax recommends using the Basic mode only for recording talk shows.