Hotel Rwanda (Blu-ray)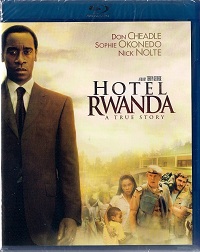 Hotel manager Paul Rusesabagina (Don Cheadle) is put between a rock and a hard place when he's confronted with saving his family or doing whatever he can to save over 1,200 Tutsi refugees from being massacred by Hutu extremists.
The world can be an ugly place and in 1994 the situation in Rwanda resulted in over 1 million deaths. Men such as Rusensabagina show us that despite all the bad in the world, there are truly good people that will stop at nothing to do what is right, even if it means sacrificing their own life. Cheadle's performance earned him an Oscar nomination, but in my opinion he was robbed when Jamie Foxx won for his portrayal of Ray Charles.
Video Highlights

AVC/1080p encode on a BD-50 disc
Excellent fine detail
Dry color palette
Well resolved shadows
Audio Highlights

DTS-HD MA 5.1 soundtrack
Crisp dynamics
Strong bass response
Occasional ambiance in surround speakers
Intelligible dialog
This is one of Fox's better catalog presentations I've seen in a while. The video encode is loaded with fine detail, has plenty of shadow detail, and transports you back to 1994. The audio track is dialog heavy but certainly delivers the goods.
Bonus Materials

Audio commentary
Select scene commentary by Don Cheadle
Return to Rwanda documentary
Theatrical trailer
This certainly isn't an easy movie to watch given the subject matter, but Cheadle's performance is worth the price of admission. I love the inspirational aspect to the story about not taking the easy road and standing up for what is right. Recommended.
Release Date: May 10, 2011
Studio: Fox
Movie: 9/10
Picture: 9/10
Sound: 8/10

Review System
Source
Oppo BDP-93 Blu-ray player

Display
JVC DLA-RS40 projector
Stewart FireHawk screen (76.5" wide, 16:9)
Electronics
Integra DTC-80.2 pre/pro
Anthem PVA-7 power amplifier
Belkin PVA-PF60 power conditioner
Speakers
M&K S-150s (L, C, R)
M&K SS-150s (LS, RS, SBL, SBR)
SVS PC-Ultra subwoofer
Cables
Monoprice HDMI cables (source to pre/pro)
Best Deal analog-audio cables
PureLink HDC Fiber Optic HDMI Cable System (15 meters) from pre/pro to projector

Acoustical treatments from GIK Acoustics