High Plains Drifter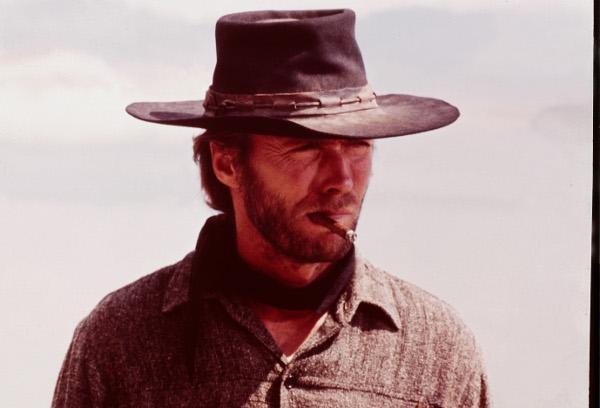 Rawhide
and as a movie star playing such iconic characters as Dirty Harry, Josey Wales, and Philo Beddoe, but it's his work as a director that has had the greatest impression on me. Believe it or not, the iconic actor has directed 35 films since 1971 winning two Oscars in the process for
Unforgiven
and
Million Dollar Baby
.
This is the third film Eastwood has directed, and while it's nowhere near the quality of the films mentioned above, it does have its moments. Eastwood stars as The Stranger who mysteriously appears out of the desert and moseys into the Old West town of Lago, where he promptly heads to the saloon for a beer and a bottle of whiskey. He's followed around town by a trio of ruffians who he eventually has to dispatch to the dismay of the townsfolk. The three thugs were hired to protect the people from a trio of outlaws who are being released from the territory prison, and they have an axe to grind with the people of Lago. Backed into a corner, the town hires The Stranger to protect them, but there's more to him than meets the eye, and they may soon regret their decision for putting their fate in his hands.
Universal boasts that the film has been digitally remastered and fully restored from the original 35mm film elements, and I have to say the studio did an impressive job. Detail is very good, with revealing textures in clothing and sets. Fleshtones occasionally look on the waxy side, but this may have more to do with the hot environment versus the DNR knob turned up too high. Black levels are deep, and the shadow detail is quite good, especially in the flashback scenes of the night the town would rather forget.
Unfortunately, the DTS-HD Master Audio 5.1 audio track doesn't measure up to the video quality. It's clear enough, but the dynamics are compressed compared with a modern soundtrack, and the highs from Dee Barton's score are a bit harsh. The dialogue is always intelligible, and the remix from the original mono track includes the occasional discrete effect from the rear of the room.
The lack of supplements is disappointing for a 40th Anniversary Edition; this set only includes a theatrical trailer and a UV Digital Copy.
Blu-ray
Studio: Universal, 1973
Aspect Ratio: 2.35:1
Audio Format: DTS-HD Master Audio 5.1
Length: 105 min.
MPAA Rating: R
Director: Clint Eastwood
Starring: Clint Eastwood, Verna Bloom, Mariana Hill
Clint Eastwood has been a household name for over 50 years thanks to his impressive Hollywood résumé that includes work in TV as Rowdy Yates on