Harmony SST-659 Universal Remote Control
The Harmony SST-659 universal remote—smart, so you don't have to be.
Programming a universal remote is, to put it mildly, unfun. About 10 more-colorful adjectives came to mind before unfun, but this is a PG-13 magazine—and I'm a lady, after all. If you're financially well endowed, you not only have the luxury of buying one of the higher-end A/V controllers that can control your gear and do your taxes at the same time, but you probably also have a custom installer who can handle the joys of programming that controller all by his or her lonesome.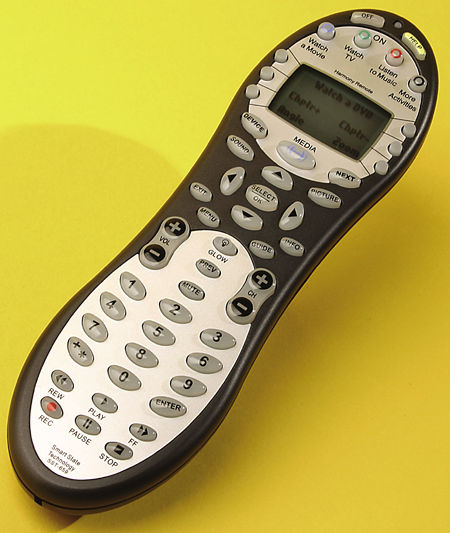 For those of you who want universal functionality in a sub-$300 remote, you can look forward to five basic steps. 1) Program the remote to control your devices, either by entering preprogrammed code numbers (not bad) or teaching it all of the commands you want it to know (a major bummer). 2) Try to play with your new toy. 3) Upon realizing that nothing works exactly the way it should, begin the laborious process of customizing (a highfalutin word for tweaking) the remote to suit your system and tastes. 4) Try again to play with your new toy, and enjoy a sense of satisfaction and accomplishment at the creative way you've gotten the device to control everything it needs to. 5) Watch that sense of satisfaction and accomplishment drain from your body as someone else picks up the remote and randomly starts pressing buttons because they have no idea how to operate the stupid thing.
With their Harmony line of remotes, Intrigue Technologies wants to change this process for the better, both in terms of programming and user-friendliness. The $199 SST-659 is the technophobe's remote—it's perfect for the friend or family member who'd like to watch a movie or listen to some CDs but doesn't want to reinvent the wheel to do it. As cool as touchscreen remotes are, a lot of people tell me that they prefer hard buttons. They want tactile feedback, and the SST-659 provides it, with 50 hard buttons that cover the bases: volume, channels, numbers, a directional keypad and select button, transport controls (that's geek-speak for play, stop, etc.), and guide, info, menu, and exit buttons to control your digital-cable or satellite box. The non-touchscreen LCD at the top of the ergonomically shaped, well-laid-out remote displays additional functions and text. The remote has a sturdy feel to it without being heavy, and it lights up a soothing blue when you press the glow button.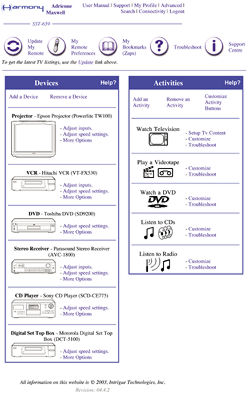 What truly distinguishes this remote are the activity buttons above the LCD screen. Intrigue has this interesting notion that most people can figure out what to do with buttons that say "Watch a Movie," "Watch TV," or "Listen to Music"—more so than they can figure out what to do with Macro 1, Macro 2, or Macro 3. Radical, huh? Sure, the Watch TV button is essentially a macro that sends the appropriate string of commands to your TV, cable box, and receiver—but hey, nobody needs to know that. . .not even the person programming the remote. How is that possible? The beauty of the Internet and Harmony's Smart State Technology, which figures out the commands that should be sent to each device.
I guess now's the time to mention that you need a computer with Internet access to use this remote because the setup process takes place via Harmony's Website (www.harmony-remote.com). You must have a PC running Windows 98SE/ME/2000/XP or a Mac with OS X. (What's that? Mac compatibility? I think I'm in love.) You also need to install the Harmony software (via a supplied CD-ROM), and, if you're on a Mac, you'll need the Safari Web browser; on a PC, you can use Netscape or Internet Explorer. Lastly, you need a USB port to connect the supplied cable and download info to the remote.
The Harmony Website is simple to navigate and use. It walks new members through a straightforward setup wizard in which you tell it what components you have and how you use them to perform each activity, such as watching a DVD. From this info, it automatically figures out what codes will control your gear and what macros you'll need to perform various tasks. If the site isn't familiar with one of your devices, you'll need to answer a few questions and teach the system some codes from your original remote; it'll figure out the rest. I tried the remote with several different systems at home and at our studio, and the only devices it didn't recognize immediately were an Epson DLP projector and a Denon universal disc player; it quickly learned the necessary codes.
One word of caution as you move through the setup wizard: There's no going back. If you answer something incorrectly, you can't just hit the back button and fix it. You have to finish the setup process and then return to that device to fix your mistake, which usually forces you to go through a lot of the steps again. Answer with care the first time, and you'll be fine.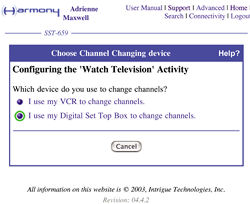 It's simple to add and remove devices as you upgrade your gear. Also, for a $40 lifetime fee or a $20 yearly subscription (the first two months are free), you can download up to 14 days of TV listings for your cable or satellite service, accessible via the remote's media button. Strangely, the remote doesn't show the channel number/name and the program name at the same time; it's one or the other.
Once you've completed the setup wizard, you simply download the info into the remote, and voilà—you're ready to go. So here's the million-dollar question: Did the SST-659 control all of my gear perfectly out of the gate? Alas, no. It controlled most of the gear without incident, including an SACD player that no other universal remote I've used recognized the codes for. However, in my home system, it kept trying to turn off my projector whenever I switched activities, it only occasionally sent successful commands to my Parasound preamp, and it didn't put some commonly used controls on the main activity pages. It also had trouble with two different TVs that lacked direct input access. If you have to cycle through your TV's inputs (which is unfortunately still way too common), you need to make sure that the Harmony Website lists the inputs in the correct order; even then, the remote didn't always stop on the correct one. This is yet another reason why display manufacturers should offer direct inputs.
So the remote wasn't perfect right off the bat. I've yet to find one that is, but the SST-659 has two things going for it that other remotes lack. One, an intuitive Website with a great FAQ page that likely has the answer to any question you have about customization and troubleshooting. It told me how to leave my projector on all the time and how to teach the SST-659 the raw commands from my preamp, which ultimately solved the problem. (OK, a few buttons still didn't work, but my preamp is sensitive, and many remotes struggle with it.) On the customization end, the Website's "change the behavior of buttons" function allows you to go into each activity page and add whatever commonly used controls you want for that activity. For the most part, this worked well; however, at one point, some of the buttons I customized inexplicably reverted back to the default functions the next time I downloaded info to the remote. I reported this to the company, and they found the bug on the Website and fixed it immediately. This is another perk of using Web-based programming. They continually monitor and upgrade the program; you simply download the improvements.
Two, the SST-659 sports a help button that actually helps. One of the most frustrating aspects of using macros in these entry-level remotes is that, should a device miss one command in the string, it throws your whole system out of whack. With the SST-659, if you hit "Watch TV" and your receiver doesn't switch to the correct input, you can press the help button, and the remote will walk you through the steps to figure out what it missed. This scores huge points in the user-friendliness column.
Truth be told, once I'd fixed the problems I encountered and customized the remote (admittedly, I have a more-complex setup than the average user), the programming process wasn't much shorter than that of other inexpensive universal remotes. However, it was much less technical and much more intuitive, and that puts even more points in the user-friendliness column.
I can't understate the value of the SST-659's activity and help buttons, and the abundance of hard buttons allows you to easily maneuver through basic functions. The end result is a device that actually controls your entire system with the touch of a button without driving your friends and family insane. Now, if only it could do my taxes. . .

Highlights
• Activity and help buttons make the remote extremely user-friendly
• Website setup is straight-forward, even for a novice
• Two words: Mac-friendly