Harman Kardon? Check. Harman Newsweek?!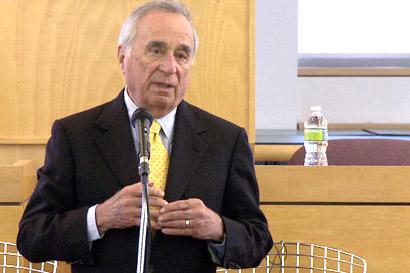 "He started a business selling FM radios in the 1950s" . . . and now he's running Newsweek magazine! Yes, Sidney Harman, whose 92nd birthday is tomorrow, has bought the ailing publication because, as he quipped to The New York Times, "I think I should stop misspending my youth."
The photo above shows Harman addressing staffers yesterday at the Newsweek offices.
Harman's name is eminently respected in the audio industry, of course. The company he founded with Bernard Kardon developed the first mono and stereo receivers, among other accomplishments.
Sure was nice to see the phrase "Audio Pioneer" in the Times today — for any reason. You can read the full story here.
Good luck, Sidney!
— Ken Richardson
LATEST VIDEO
WHERE TECHNOLOGY BECOMES ENTERTAINMENT