Hannah Montana and Miley Cyrus: Best of Both Worlds Concert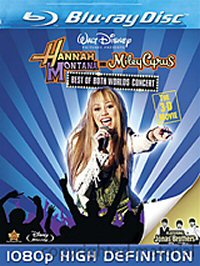 In 2007, teen sensation Miley Cyrus performed as herself and her alter ego, Hannah Montana, in the sold-out concert tour. Scalpers were selling individual tickets for over $1000 apiece, leaving thousands of kids out in the cold until Disney got the bright idea of filming the concert for an exclusive, limited-run theatrical 3D presentation. To my surprise, the theatrical concert raked in $31 million its first weekend and collected a cool $65 million in total.
If you have kids under the age of 13, you certainly know who Hannah Montana is. To the uninitiated, Miley Cyrus, daughter of Billy Ray Cyrus (Mr. Achy Breaky Heart), stars in the popular Disney Channel show Hannah Montana. I was mildly interested in watching the concert with my 12-year-old daughter, and I actually enjoyed it. Miley isn't a great singer, but she is one heck of an entertainer and knows how to engage the audience. As a parent, I only hope she doesn't follow the path of previous Disney starlets Lindsey Lohan and Britney Spears, but being the offspring of a famous singer might give her an advantage in dealing with her fame.
The concert has the distinction of being the first 3D Blu-ray, and it actually works. The disc comes with four sets of 3D glasses, but they are the cheap red-and-blue cardboard variety and aren't very comfortable to wear. Still, the disc and glasses offer up a pleasing picture with nice depth and detail. The occasional 3D gimmick of a hand gesture or mic stand moving toward the camera provides the "ooh and ah" effect, but happily, these are kept to a minimum. After about 15 minutes, we made a family decision to switch to plain-old 2D for the sake of comfort without the cheap glasses.
The 2D version is just as enjoyable, and it doesn't necessitate taking the glasses off and putting them back on, since the behind-the-scenes footage is in 2D regardless of which version you are watching. Colors are well saturated with adequate depth and dimensionality. Occasional compression issues arise on some fast camera pans, but other than these minor annoyances, the AVC encode is very good.
The DTS-HD 7.1 soundtrack is impressive at times, although the rear soundstage is a bit overpowering. Given that the audience is filled with a few thousand pre-teens, their loud screams are a bit much, and hearing their reaction to the diva reminds me of footage of Elvis fans from the 1950s. Dynamic range is a bit inconsistent. There is plenty of bass and some piercing highs, although the midrange is a bit heavy and bloated.
The supplements include two additional songs and a "sing-along" version of the concert. Rounding out the features is a backstage tour with Miley Cyrus and the Jonas Brothers, showing how much work goes into each performance.
Disney certainly knows how to market and sell its stars, and Miley Cyrus is one of its most popular assets. My daughter loved the show and would give it a score of 10/10, so if you have pre-teen daughters, you can pretty much predict the same reaction. Recommended for families with the right demographics.
Release Date: August 12, 2008
Film: 7 out of 10
Picture: 8 out of 10
Sound: 6 out of 10

Review System
Source
Panasonic DMP-BD30
Display
JVC DLA-RS1 projector
Stewart FireHawk screen (76.5" wide, 16:9)
Electronics
Pioneer Elite SC-09TX THX Ultra 2 AVR
Belkin PF60 power conditioner
Speakers
M&K S-150s (L, C, R)
M&K SS-150s (LS, RS, SBL, SBR)
SVS PC-Ultra subwoofer
Cables
Monoprice HDMI cables (source to pre/pro)
Best Deal analog-audio cables
PureLink HDC Fiber Optic HDMI Cable System (15 meters) from pre/pro to projector