The Greatest Game Ever Played (Blu-ray)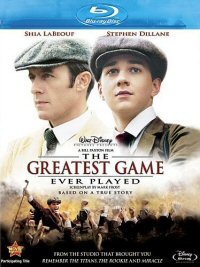 Amateur golfer Francis Ouimet (Shia La Beouf) has a dream—he wants to compete against the world's greatest player and his hero, Harry Vardon (Stephen Dillane). With his poor background, this doesn't seem likely until a member of the prestigious country club where he caddies notices his talent and gives him the opportunity to play. When he qualifies for the 1913 US Open, his dream comes true as he battles his hero in one of the most defining moments in US golf history.
True-life stories can be a hit-or-miss prospect, but director Bill Paxton delivers on this inspirational story. Even though I already knew the outcome, it never failed to entertain. La Beouf delivers a much better performance than his recent efforts in Transformers and Indiana Jones, and the dramatic elements certainly played to his strengths.
I own the DVD, and the Blu-ray presentation is a remarkable improvement, especially with the background detail. Close-ups reveal facial textures and pores, and the daytime scenes are bright and vibrant. Black levels are equally impressive on both interiors and exteriors, exhibiting noteworthy detail in the shadows, and the natural color palette rich in earth tones comes alive in HD.
The DTS-HD MA 5.1 soundtrack is another sure-fire upgrade over the Dolby Digital 5.1 track found on the DVD. The greatest improvement is in the surround ambience, which was sorely lacking on the DVD. The crowd noise is more intense and lifelike, especially during the final round of the Open. Additionally, the dialog is more natural and balanced, and the LFE has some additional thump and realism.
Ported over from the DVD are the same standard-definition bonus features, which include two audio commentaries—one by director Bill Paxton and the other by author/screenwriter/producer Mark Frost. Additional supplements include a behind-the-scenes featurette, a short look at the lives Vardon and Ouimet, and the best of the bunch, a PBS documentary from 1963 on Francis Ouimet that includes an interview with the American hero.
I love inspirational sports stories, and as an avid golfer, this one certainly resonates. The presentation is outstanding, and the timing of its release couldn't be better with the 2009 US Open starting this week at Bethpage Black in New York. Highly recommended.
Release Date:June 16, 2009
Studio: Disney
Movie: 8/10
Picture: 9/10
Sound: 9/10

Review System
Source
Oppo BDP-83 Blu-ray player

Display
JVC DLA-RS1 projector
Stewart FireHawk screen (76.5" wide, 16:9)
Electronics
Onkyo Pro PR-SC885 pre/pro
Anthem PVA-7 power amplifier
Belkin PF60 power conditioner
Speakers
M&K S-150s (L, C, R)
M&K SS-150s (LS, RS, SBL, SBR)
SVS PC-Ultra subwoofer
Cables
Monoprice HDMI cables (source to pre/pro)
Best Deal analog-audio cables
PureLink HDC Fiber Optic HDMI Cable System (15 meters) from pre/pro to projector

Acoustical treatments from GIK Acoustics
LATEST VIDEO