The Graduate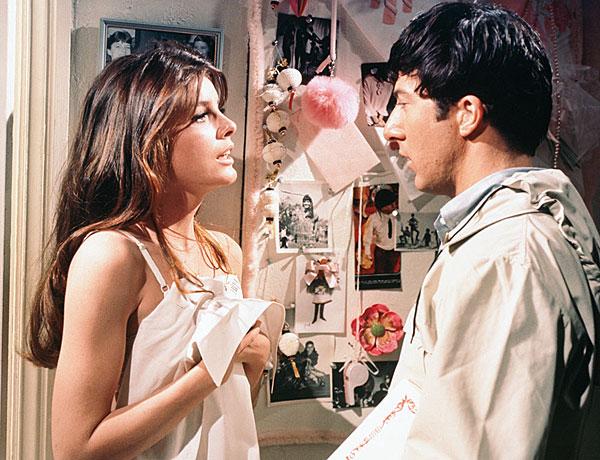 Director Mike Nichols and screenwriter Buck Henry had both worked in comedy-improv, Nichols most famously in duet with Elaine May. Nichols also had roots in theater, as an aspiring actor in Lee Strasberg's studio, then the Tony-winning director of smash Broadway comedies, and, as his first film, an adaptation of Albee's Who's Afraid of Virginia Woolf. When he decided to make The Graduate his second film, he was a superstar who could get what he wanted; he cast mainly unknown actors, put them through six weeks of rehearsal before the cameras rolled (unheard of at the time, impossible today), and it wouldn't be what it is without all that. There are bits of comic timing, in gesture and dialogue, unmatched before or since.
Nichols hired the veteran cinematographer Robert Surtees, and it's a gorgeous-looking film (I saw a screening of Nichols' own print about a decade ago), and this Criterion Blu-ray Disc is the first home-video transfer where this shows.
In the September 2009 issue of Home Theater (which later merged with S&V), I reviewed two earlier Blu-ray releases of The Graduate, one by MGM, the other a code-free French release by Studio Canal. The MGM was disastrous: Colors were unnatural; darks were indistinguishable from shadows; medium-to-long shots were blurry, and when the camera moved, they flickered with digital noise. The French disc was better, though medium shots were hazy and colors were further off the mark.
The Criterion transfer eradicates these problems: Colors are natural; blacks and shadows are distinct; and there's a sense of depth. Occasionally skintones still seem a bit blotchy, but these incidents are rare. The soundtrack is superb: crisp and lifelike. The special features, some old, others new (including a long interview with Hoffman), are fun and fascinating.
Blu-Ray
Studio: Criterion Collection, 1967
Aspect Ratio: 2.35:1
Audio Format: Uncompressed mono, DTS-HD Master Surround 5.1
Length: 106 mins.
MPAA Rating: PG
Director: Mike Nichols
Starring: Dustin Hoffman, Anne Bancroft, Katharine Ross
The Graduate is one of the great American films. It captured a spirit of the 1960s at its cusp, marked the screen debut of Dustin Hoffman (clearing the way for a new, more inclusive type of movie star), altered the nature and function of a movie-music soundtrack—and it's just damn fine filmmaking. It's the shrewd mixing of dissonant elements that made the movie so head-spinning in its day and so appealing still—a fairly conventional formula, sly angles on modern themes (empty materialism, alienated youth, sexual license), and raucous comedy done up in a stark, surreal mise-en-scène: Antonioni channeled through Second City, but deeply funny, not just satirical, and oddly moving, too.