Got an App For That?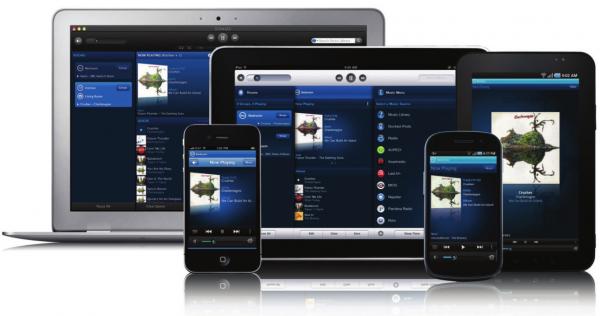 App is a word that was barely even part of the public lexicon a few years ago, but now has become such an entrenched part of it that even my mom — quite possibly the least technologically inclined person on the planet — drops the phrase, "There's probably an app for that."
In the A/V world, apps enable cool streaming services like Pandora, Rhapsody, and Netflix on network-connected components. They also offer another huge benefit by allowing IP-based control of components over the network.
This is a good thing, because — let's be honest — the remote controls that manufacturers have included with their systems for years are pretty much garbage. And lest you think I'm picking on a particular manufacturer, please understand that I mean all of them. I'm especially talking about A/V receiver remotes so horribly designed that you might assume third-party universal remote control makers have them on the take. With tons of tiny, rarely used buttons with little or no backlighting, and more buttons hidden behind doors, they're about as intuitive and easy to use as the Large Hadron Collider.
Because of this, one of the first things most sensible people do after installing a new component is immediately put aside the included remote and program the device into their universal remote of choice. But many A/V receiver, Blu-ray, and media server manufacturers are now embracing app-based control. Such apps, which are usually free, often provide much greater feedback and incorporate a far slicker design than the traditional IR remote that's packed in the box. A control app can display things like volume levels, surround modes, and the title/time elapsed for the current track that's playing. Plus, since the apps communicate with components via Wi-Fi, they will control your gear even if?it isn't located within line-of-sight of the remote, a major limitation of IR-based controllers.
App-based control can also be terrific for accessing Web content via TVs and Blu-ray players, as some apps incorporate a QWERTY keyboard for faster surfing. Also, several apps allow navigation of things like menus or channel lists via up/down finger swipes, so you don't have to constantly look at your portable's screen.
Since the apps reside within your tablet or smartphone, they eliminate the coffee table clutter that comes from using multiple remotes and reduce the chance of losing the remote.
I use Marantz's Remote App on my iPad to control my Marantz preamp/processor, and I love that I can use it to browse my Pandora stations and networked audio library without having to turn the TV on. It's also great for rapidly adjusting volume using the slider bar or cueing the correct volume before starting a movie.
By far the slickest apps are the ones supplied by media server companies. These manufacturers push the envelope of what app control can offer, with loads of metadata and graphically?rich displays. Two of the best apps I regularly use come from Kaleidescape and Sonos (the latter is shown above), both designed to take advantage?of the iPad's larger screen size and retina display. Kaleidescape's app allows rapid access to every movie and album in your collection with cover art display, album reviews and artist bios, and full virtual remote control. A recent update adds reviews from Rotten Tomatoes and Common Sense Media information. Sonos's app puts the entire world of streaming audio at your fingertips, letting you jump among different services as well as rooms within your home in an incredibly intuitive manner.
One drawback to app control is that jumping in and out of individual apps to control each component creates a somewhat disjointed experience. But automation systems from companies like Control4, Crestron, Savant, and URC can cohesively tie?an entire system together, allowing one-button, "Watch Movie"-type control over your system from an app running on a tablet or smartphone. Other iPad- and iPhone-based universal control solutions like Logitech's Harmony Link and the ones reviewed in our Remote Control app feature on page 26 are growing in power and flexibility. And we're likely to see even more new, innovative offerings as the tablet market continues to expand.

SPONSORED VIDEO