Eco-Friendly Headphones that Are Good For the Planet... and the Soul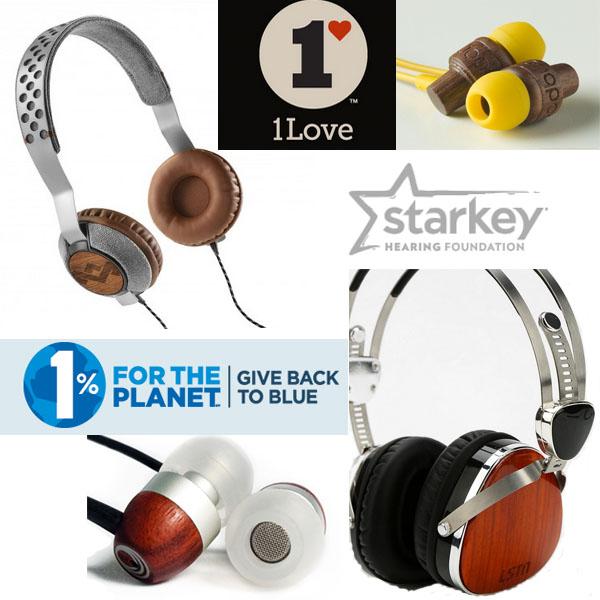 After a piece of your tech breaks for good, do you ever wonder what to do with it next? Finding a recycling center can be difficult. Even if you do manage find a facility near you, the EPA states that "
not every electronic recycler follows environmentally sound recycling practices
." This might explain why, according to non-profit
DoSomething.org
, 20 to 50 million metric tons of e-waste are disposed worldwide every year, and accounts for a whopping 70% of our toxic waste. We, as consumers, only recycle approximately 12% or our tech waste every year. It all sounds pretty grim, but a few companies are out to change all of that. Using sustainable, recycled materials, and even donating some profits to charity, these headphone manufacturers are challenging the status-quo and showing us there is another way to approach technology.
Marley
Easily the most recognizable name in the bunch, Marley headphones are made by the House of Marley, the company created by the relatives of, you guessed it, Bob Marley. The famous family has a full line of over-, on- and in-ear headphones in a variety of price points ranging from $20-$150. All their offerings are made with sustainable materials like cotton and canvas textiles, recycled plastics, recyclable metals, and bamboo and Forest Stewardship Council (FSC)-certified woods. (Vegans should read each headphone description carefully, however, as a few pairs are made with leather.) Their newest offering is the Liberate on-ear, which for $99 sounds pretty darn good and is made of canvas, FSC wood, and stainless steel.
If all that earth-friendliness weren't enough for you to feel good about your purchase, Marley headphone purchases support the 1 Love Foundation which does things like create wells in Ethiopia, renovate orphanages in Jamaica, and provide music education to underprivileged kids. That's a lot of do-gooding for just getting a pair of headphones. Maybe every little thing is gonna be alright after all.
LSTN
Up next in the karmic overachievers category is LSTN. Made with reclaimed wood discarded from the furniture and flooring industries, LSTN offers on- and in-ear headphones ranging from $50-$150. What each headphone purchase also does is support the Starkey Hearing Foundation which helps to restore hearing to people in need. Their website has a video of the charity work, and it's pretty remarkable seeing people hear for the first time. So if your kind of bliss is knowing you can help someone else hear for the very first time the same music you're jamming to on your headphones, LSTN is your company.
thinksound
Offering mostly in-ear and one on-ear headphone, thinksound is the only company to boast PVC free cables. Their products are made with sustainable wood and boxed in bleach-free recycled packaging. Ranging from $65-$300, thinksound also is the only company in this bunch to implement a recycling reward program. Send them your old headphones (functioning or not) and receive a coupon code for a 15% discount on your purchase. (25% if the headphones you send in are thinksound products.) Instant karma!
GrooveMagnet
GrooveMagnet is a one headphone company, offering in-ears for $50. Those in-ears are made from sustainable bamboo and get this, biodegradable plant-based bio-plastics. Woah. Talk about eco-conscious. Part of me wants to get some just to bury them in my garden and watch what happens Mr. Wizard style.
WoodBuds
Last up on our roundup is WoodBuds, a British company that makes in-ear headphones in a variety of colors for £25. They too have FSC certified plantation hardwood chassis in 100% recycled packaging. But on top of that, they plant a tree for every 100 products sold, and are a member of the 1% For The Planet, an organization of businesses that pledge to donate at least 1% of their annual sales to approved environmental organizations. Talk about global consciousness!
Overall, we still have a ways to go in striking a balance between our love of technology and our love (and need) of our planet. But if companies like these succeed, you can bet more and more manufacturers will take notice. Bringing change is something that can happen not only through charity, but commerce. Being mindful in our everyday purchases can bring about a large impact not only today, but for future tech-geeks.
LATEST VIDEO