GoldenEar ForceField 40 Subwoofer Review Page 2
Initial Tests and Setup
The original GoldenEar specification, carried over from the ForceField 4 model that the 40 replaces, stated that the subwoofer could extend down to 14 Hz. But this is nowhere close to reality. When we brought it to the company's attention, it agreed there was a discrepancy. The "legacy" specs have been replaced by new measurements that led to much more realistic and accurate frequency response specs. The new, official specs are 25–200 Hz in a room and 30–170 Hz anechoic (both -6 dB, measured on-axis).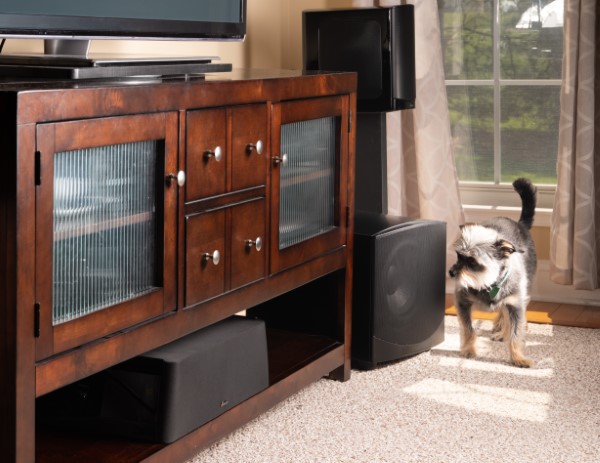 My measurements and ears can attest to a 27–30 Hz usable real-world response. Since all the controls are manual, I had to do things the old-fashioned way and play pink noise through REW (Room EQ Wizard) and manually set the volume until I reached 75 dB on the SPL meter, which matches the output of my M&K S150 speakers. Since I rarely listen at reference volume, I always boost the bass by 3 dB in my system to give it more punch. My preferred listening level is between -15 dB and -20 dB from reference, which is the level I listened to during most of my time with the subwoofer.
Once I had the volume set, I tested various listening positions in my room. Unfortunately, I have some modes that can come into play, which is one reason I use multiple subwoofers in my reference system. As you can see from the REW chart, the final position chosen was the best compromise of the bunch and eliminated a nasty dip at 57 Hz.
If I owned this sub, I'm sure I could get a flatter response with custom EQ curves that could be input into my Trinnov processor, but for this review, I mimicked how most end-users would use the product. Regardless, I was pleased with the final placement because the room gain effect significantly increased output from 22–38 Hz compared to its center-of-the-room measurements, which should help with movie soundtracks.
In Use
With placement issues addressed and measurements complete, it is time to put away the UMIK-2 and laptop. First up on the listening tests is Top Gun: Maverick, my favorite movie from 2022 and a title that has one of the best Dolby Atmos soundtracks you'll ever hear. I queued up the film on a Kaleidescape system and jumped directly to the Mach 10 scene in the first act. During this 5-minute sequence, the LFE drops well below 20 Hz, which will put any subwoofer to the test.
Is the ForceField 40 up for the challenge? I wouldn't say it's blowing me away. I'm used to feeling the bass in my room, and in the case of the Forcefield 40, I can hear what's going on, but the low-frequency rumble isn't there. However, given the physics involved, one would not expect it to be.
The room-shaking rumble from a subwoofer mostly comes from ample output below 20 Hz, which isn't physically possible from a 10-inch woofer. Granted, there are movie lovers who might find this low-frequency rumble a problem, particularly those living in an attached condo or apartment with shared walls, ceilings, and floors. In their case, you want ample bass above 27 Hz, which is where the ForceField 40 shines.
I went through my stable of movie soundtracks, including 13 Hours: The Secret Soldiers of Benghazi, John Wick, and Black Hawk Down, among others, and found the same limitations with the ForceField 40's output. At my normal listening level, it couldn't keep up with the sub-20 Hz output I'm accustomed to—you could hear the bass just fine, but you couldn't feel it with the same intensity as larger subs with bigger woofers bring to the table.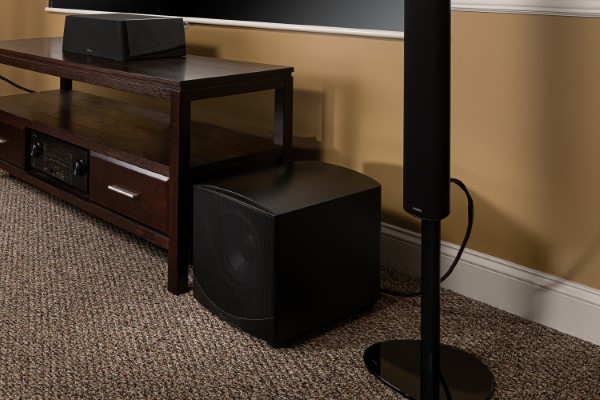 Knowing the sub's limitations, I decided to stick with what it does best and concentrate on its musical prowess. First up is Hans Zimmer's Live in Prague, available from Kaleidescape in 4K with a fantastic Dolby Atmos soundtrack. I jumped through various tracks and settled on "Captain Jack Sparrow" from Pirates of the Caribbean. According to an RTA measurement from REW, this song only features a little deep bass, with a steep roll-off at 35 Hz. Sure enough, the track sounds divine from my main listening position and at sane listening levels. In fact, it sounds similar to my reference subwoofer setup. Words that spring to mind are precise, quick, and natural.
"Victoria's Secret" by Jax is one of the catchiest tunes I've heard in years, and I just can't seem to get enough of it—just ask my wife, who has banned any further playback in her presence! Jax finished third on the fourteenth season of American Idol, and she wrote this tune for a child she was babysitting. The bass track doesn't kick in until the 30-second mark, but it hits with authority, clear articulation, and presence when it does. Once again, the GoldenEar doesn't disappoint as the young lady tells us that Victoria's secret is "an old man who lives in Ohio." If you haven't heard the song, look it up—it's LOL funny.
Conclusion
Where the ForceField 40 shines is with reproducing instruments like kickdrums, so tracks such as "Life's Been Good" from The Eagles: Farewell 1 Live from Melbourne Blu-ray highlight the positives this sub brings to the table.
Unfortunately, those of us who love movies want to dig a bit deeper than this sub can go, which limits its audience. In a similar size package and price, you could get an SVS SB3000 with a larger 13-inch woofer, allowing it to hit those lower notes easily and offering an app for fine-tuning the output. That caveat aside, the GoldenEar is an excellent performer for its size. It is a well-built option for music lovers to complement their bookshelf or compact tower speakers without fear of annoying the neighbors or waking the dead.