The Godfather DVD Collection
Paramount Movies
DVDs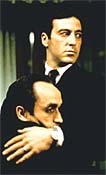 What makes a special edition truly special? In many cases - from Citizen Kane to Brazil - it's when the story behind the making of a great film is almost as compelling as the film itself. In these rare instances, the documentaries, commentary tracks, and "lost" footage add up to something especially meaningful and memorable. Such is the case with The Godfather DVD Collection, which brings together all three parts of director/co-writer Francis Ford Coppola's epic saga in their original nonchronological form on four DVDs, with a fifth disc entirely for extras.
The behind-the-scenes story is told mainly through the commentaries Coppola provides for all three movies, the first he has ever done for the film series that made his career. These amount to nine hours of verbal narration, a saga in itself. His memories of the first film, made in 1972, are mostly painful: he was a young, almost unknown director belittled by his own crew and constantly in danger of being fired by the studio. Three Oscars (including Best Picture) and two years later, the same studio was begging him for a sequel. This time, he was able to work on his own terms, with the time and resources to handle all the creative challenges. The result earned six more Oscars (including, again, Best Picture). Sixteen years later, in 1990, he was rushed by a studio needing to boost its stock price into making Part III (which didn't win Best Picture). Taken as a whole, the three commentaries offer a truth-filled history of modern Hollywood filmmaking.
The other extras include several wonderful items. One documentary gathers footage from a 20-year period and provides a nice, succinct overview of the series. Deleted scenes include many that have appeared in video releases before, but the new bits, however slight, will delight Coppola fanatics. The best supplement is a brief new segment in which the director shows the amazing first step he took in turning a novel into a great movie: he cut out each page of Mario Puzo's book and pasted them one by one into a binder of larger pages that would keep all his scribbled ideas together, from first impressions to last-minute inspirations.
Thankfully, the boxed set's greatest pleasure is the showcase quality of the films. The first, especially, seems a symphony of light and shadow. Cinematographer Gordon Willis's brassy yet intimate images still carry a power that others have imitated for 30 years now. But all three films have visually arresting moments as the story moves between New York City, Lake Tahoe, Sicily, and Cuba. Furthermore, The Godfather and The Godfather Part II have each been given their first multichannel soundtrack mixes. Although it's good to hear the somewhat wider soundscape, I wish the original mono tracks had also been included, if only for old-time's sake.
English, Dolby Digital 5.1; French, Dolby Digital 2-channel mono; letterboxed (1.78:1) and anamorphic widescreen; five dual-layer discs.