Frankenweenie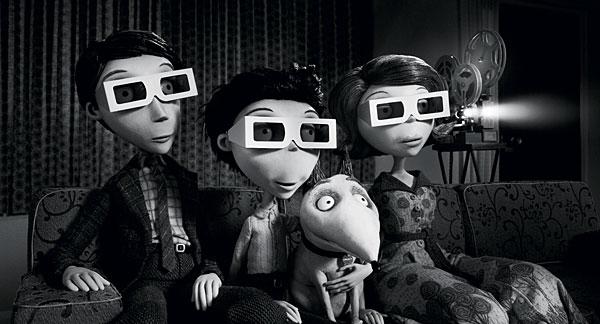 Tim Burton was an acquired taste for me, and over the years I've learned to love his eclectic work. He has a twisted view of the world—in a good way, mind you—joined with amazing visual talent and a passion for stop-motion animation, which leads to a fun night at the movies. Burton first explored this story in his 1984 live-action short film and adapted it for a longer run time with middling results. While I really liked the heartwarming aspects of the story, the movie starts out somewhat slow and drags through the first act. Thankfully, things pick up in the second act, and it has quite a few laughs and a very touching conclusion.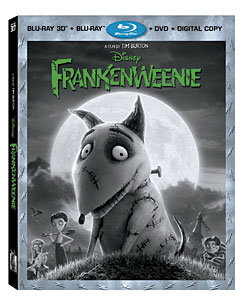 The 2D version is visually outstanding with plenty of detail, mesmerizing shadows, and zero compression issues to speak of. The black-and-white image gives it an eerie look reminiscent of the Universal monster movies from Hollywood's golden age. The 3D presentation is a step down due to a significant decrease in brightness from the glasses. The depth is increased, drawing you into the picture, but there are rarely any effects coming through the screen. The DTS-HD Master Audio 7.1 audio track is very good and serves up an immersive surround experience due to the creative sound design, crisp dynamics, and just the right amount of LFE to punctuate the action.
Supplements include the original Frankenweenie live-action short, some behind-the-scenes featurettes, a music video, and a second original short, Captain Sparky and the Flying Saucers. Also included are a DVD and Digital Copy of the film.
While not one of Burton's best films, this one certainly has its moments and is worth a look on Blu-ray, especially if you're starved for 3D content.
Blu-Ray 3D
Studio: Disney, 2012
Aspect Ratio: 1.78:1
Audio Format: DTS-HD Master Audio 7.1
Length: 87 mins.
MPAA Rating: PG
Director: Tim Burton
Starring: Catherine O'Hara, Martin Short, Martin Landau
Coerced into playing baseball by his father, Victor connects with the hit of his life and sails one over the fence. His beloved dog, Sparky, thinks it's a game of fetch, races after the ball, is hit by an oncoming car, and dies. Terribly depressed and lonely, Victor is inspired by his science teacher to bring his dog back to life. Successful in his task, his home-sewn creature draws the attention of an evil classmate when he escapes, and Victor is forced to reveal his secret on how to raise the dead. All hell breaks loose when the town is suddenly overrun by reanimated pets, and it's up to Victor and Sparky to save the day.