Footloose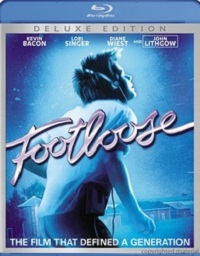 City-boy Ren (Kevein Bacon) moves to the small Midwestern town of Beaumont and quickly learns that dancing and popular rock music has been banned. He befriends Ariel Moore (Lori Singer), the daughter of the popular preacher who's leading the charge for the "no fun zone," and a line is drawn in the sand between hometown values and teenage fun.
Footloose is one of those 80's films that stir-up a lot of memories for people in my age demographic. Back in 1984 it was wildly popular due to the hip music, fun dancing, and anti-establishment message. There wasn't a guy I knew who didn't want to be like Ren, but I'm positive I wouldn't approve of my teenage daughter dating a guy like him today!
I've reviewed over 750 Blu-ray titles over the past five years and this is one of the worst video transfers I've seen. While it occasionally looks passable, these scenes are few and far between. The image is very flat and lifeless, the noise reduction knob has been turned to the max setting, and flesh tones are way too waxy. Furthermore, there's some obvious banding, jagged edges, and crushed blacks and the result is an embarrassment for Paramount. Fortunately, the DTS-MA HD 6.1 soundtrack fares much better. The title song exhibits superb transparency, especially with the musical instruments and the trend continues with other popular songs from the film. Imaging is admirable throughout the film and the dialog is firmly rooted in the center speaker and is always intelligible.
Extras include to audio commentaries, fun interviews with some of the cast, Kevin Bacon's screen test, a two part retrospective documentary on the film, a feature on the music, and a theatrical trailer. There's also a coupon for $7.50 of Hollywood Movie Money toward the 2011 remake of Footloose that will be in theaters soon.
There are still elements of this film that are enjoyable as an adult although I'm not sure I want my kids adopting such a rebellious attitude. Unfortunately the video transfer is horrendously poor and is in dire need of a new master, but the audio experience was above par and made it somewhat enjoyable. At best, this is a rental.
Ratings
Picture:1.5 /5
3D-Ness: N/A
Sound: 4/5
Extras: 4/5
Interactivity: N/A

Disc Specs
Studio: Paramount (1984)
Aspect Ratio: 1.78:1
Audio Format: DTS-HD MA 6.1
Length: 107 Min
MPAA Rating: PG
Director: Herbert Ross
Starring: Kevin Bacon, Lori Singer, Dianne Wiest, John Lithgow

LATEST VIDEO