Flashback 1964: A Newfound Pop Star & His Car Record Player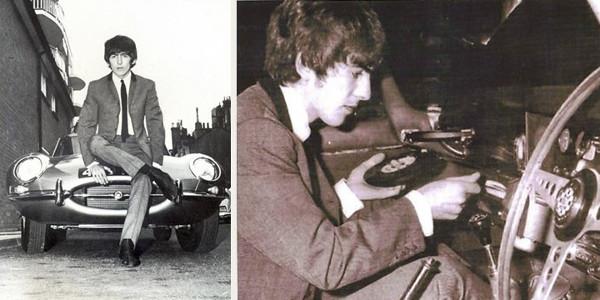 It's 1964 and you're the guitar player in a British group trying to comprehend your meteoric success in America that began with 73 million Americans tuning into the band's debut performance on The Ed Sullivan Show.
With your newfound fame comes fortune and the opportunity to buy things you never dreamt you could afford—like a brand new Jaguar E-Type 3.8 custom fitted with a Philips Auto-Mignon in-dash 45 RPM record player (which, by the way, never really caught on with the general public).
The group, of course, is The Beatles and the guitar player George Harrison who was 21 when he treated himself to these toys. Not that he would have had much time to listen given the band's grueling schedule that year, which saw the release of several albums and a movie.
Harrison wasn't the only Beatle to own an in-car record player. In December of 1965, John Lennon had the same model player (Philips AG2101D) installed in his 1965 Rolls Royce Phantom V just as the newly released Rubber Soul album was moving up the Billboard charts soon to reach No. 1 (on January 8 1966). John's portable record player was fitted into the center console in the rear passenger area.
Watch a Philips in-car record player like the one George Harrison and John Lennon owned in action here: