Flashback 1958: A Stereo Spectacular!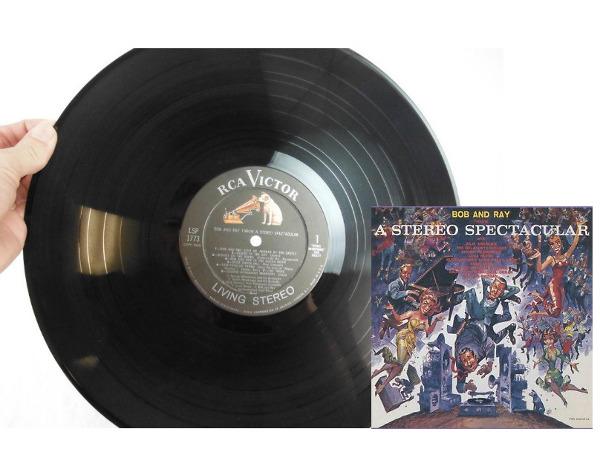 Way back in 1958 when stereo was a novelty, the comedy duo
Bob Elliot and Ray Goulding
released
Bob And Ray Throw A Stereo Spectacular
, a whimsical LP showcasing the marvels of two-channel sound.
We were reminded of this wonderful demo album with the recent passing of Mr. Elliot, father of comedian Chris Elliot and grandfather of actress/comedian Abby Elliot. He was 92.
The album has 15 tracks, including "New Fangled Tango" "from Lena Horne At The Waldorf-Astoria (1957), "We'll Gather Liliacs in the Spring" from (1958), and "Buck Dance" from Music For Bang, Baa-Room and Harp (Dick Schory's New Percussion Ensemble, 1958).
If you're intrigued, a quick visit to ebay will turn up a number original LPs, ranging in price from $8.50 to $199.99 for a sealed copy (or $46 for a sealed test pressing). You'll also a few CD reissues, including the 1995 "Audiophile Mastered" version, pressed on a 24-carat-gold disc ($41 to "$399.99 or best offer").
Revel in the nostalgia and check out "Bob And Ray Visit Dr. Ahkbar At the Castle," track 1 on Bob And Ray Throw A Stereo Spectacular:
WHERE TECHNOLOGY BECOMES ENTERTAINMENT