Flashback 1933: The First Drive-In Theater Opens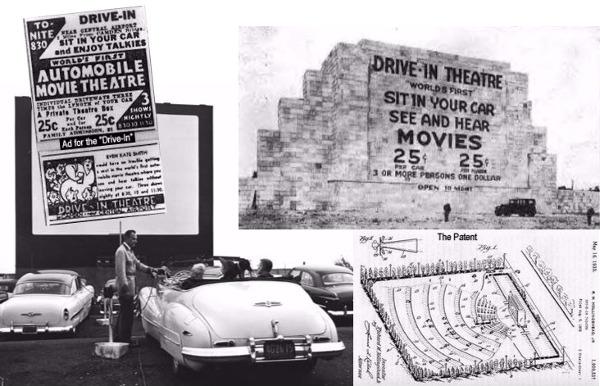 Eight-four years ago this week, the first drive-in movie theater opened in Camden, New Jersey.
The theater was the brainchild of movie fan/entrepreneur Richard Hollingshead who noticed that people continued to go to the movies during the Great Depression even if it meant giving up more important things like food and clothing. Several years earlier he had experimented with the concept of an open-air theater where patrons could watch movies from their automobiles by placing a Kodak film projector on the hood of his car and projecting an image onto a makeshift screen nailed to a tree with a radio positioned behind the screen for sound.
After experimenting with various configurations to find an arrangement that would ensure an unobstructed view of the screen for all patrons, he came up with the idea for an outdoor venue comprising a series of tiered rows with raised ramps and filed for a patent in 1932. The patent was granted on May 16, 1933 and three weeks later (June 6) Hollingshead and his cousin opened the "Drive-In Theater" (whose official name was the "Automobile Movie Theater"). A local road contractor agreed to grade the lot of the prototype theater in exchange for an interest in the new company and Campbell's Soup executive Oliver Willets bought stock to help the venture get off the ground.
The theater was built to accommodate 400 cars with a screen that was 40 feet wide, 30 feet high, and about 12 feet off the ground. The tiered field, paved with gravel and oiled to minimize dust and keep mosquitoes away, was surrounded by large trees and fencing to keep the movie "inside." Construction costs were estimated to be around $30,000, which included what would become a hallmark of the drive-in theater—the concession stand.
The theater presented shows at 8:45 and 10:45 p.m., only after realizing that three shows wouldn't work, and charged 25 cents per car with an additional 25 cents a head.
Drive-in theaters have long since faded into obscurity. As of three years ago there were fewer than 350 left in the U.S., down from more than 2,400 in 1980 and some 4,600 during the height of their popularity in the '50s and '60s.
Read more about the first drive-in here and here, and check drive-ins.com to revel in nostalgia and find a drive-in theater near you…if one exists. For even more on drive-in history, see The Drive-In Theater History Page.