Finding Nemo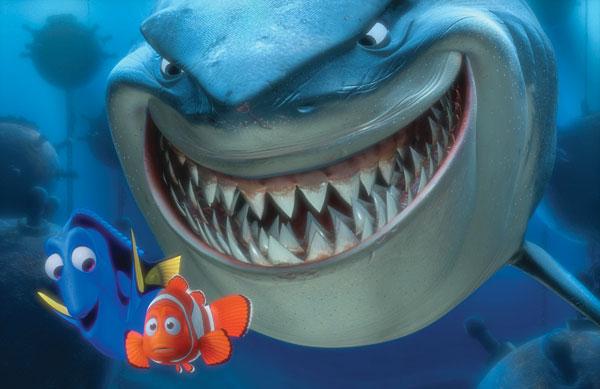 Meanwhile, Nemo has ended up in a Sydney dentist's fish tank, where the other inmates initiate him into their club. But things turn critical fast; the dentist plans to give Nemo to his bratty, psycho niece Darla as a birthday present.
One of Pixar's best and most endearing films, Finding Nemo is loaded with vivid characters, warmth, and humor. If you spot a lack of subtle textural detail in the animation, remember that this film was produced 10 years go. But everything looks so gorgeous overall, particularly in high definition (this is Finding Nemo's first appearance on Blu-ray), that it's almost like seeing the film for the first time.
The 3D transfer is also impressive. This is a 3D conversion, but converting computer animation from 2D to 3D, where the creative process starts and ends in a computer, avoids many of the pitfalls inherent in a live-action 3D conversion. There's not much in the way of jump-out effects here, and when the action takes place in front of a background of murky water, the depth effect largely disappears. But most of the time, given a reasonably bright 3D display, the images are as effective as they would have been had the film been originally produced for 3D.
The audio is superb as well, from Thomas Newman's music score to the active surrounds. The infrasonic bass isn't nonstop from beginning to end; this isn't a Prometheus or Avengers mix. But there's enough here to give your sub a happy meal, including exploding mines and a classic scene of Darla banging on the fish tank.
The special features (some in HD, many in SD) will keep you busy for hours, includ- ing making-of shorts, outtakes, deleted scenes (in storyboard form), and a film- makers' roundtable, reminiscing 10 years later about their experiences in making the film. Best of all is a commentary track (called Cine-Explorer in the menu) with both audio-only observations and pop-up still and moving windows that adds depth to the discussion.
Blu-Ray 3D
Studio: Disney, 2003
Aspect Ratio: 1.78:1
Audio Format: Dolby TruHD 7.1
Length: 101 mins.
MPAA Rating: G
Directors: Andrew Stanton, Lee Unkrich
Starring: Albert Brooks, Ellen DeGeneres, Alexander Gould
Little Nemo and his dad, Marlin, are the only survivors of a barracuda attack that took his mom and not-yet-hatched siblings. On Nemo's first day of school (fish in a school—who knew?), he swims out beyond safety and is scooped up by a scuba diver. The distraught Marlin sets out on a journey to find him. In his quest, he meets up with a memory-challenged fish, Dory; a trio of sharks in a fish-anonymous rehab group; a convoy of surfer-dude turtles; a great blue whale; and more.