Fear and Loathing in Las Vegas (Blu-ray)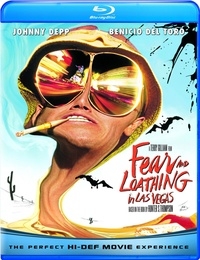 Based on the book by Hunter S. Thompson about a journalist (Johnny Depp) and his lawyer (Benicio Del Toro) in search of the American dream while gallivanting around Las Vegas for 48 hours high on drugs. Along the way they meet a cast of real life characters including Tobey Maguire, Ellen Barkin, Gary Busey,, Christina Ricci, Mark Harmon, Carmon Diaz, and Lyle Lovett.
I've never been a part of or understood the drug culture so with no point of reference, I've never understood this film. While I can appreciate the fine acting by Depp and Del Toro, the story doesn't go anywhere other than portraying a couple of guys tripped out adventure in Sin City.
While I don't care much for the film, at least looks great in HD. The print is in astounding shape without any blemishes, colors are visually stimulating with rich primaries, and detail is exquisite. The black levels are slightly elevated and some of the green screen work is pretty bad. For example, when Depp and Del Toro are driving down the strip, the colors in the backdrop are muted compared to the vibrant red of the car.
The Dolby TrueHD 5.1 soundtrack features lifelike dialog with accurate tone and depth. The drug-induces sequences are very trippy due to well placed discrete effects from all around the room. Pans are seamless from front-to-back and side-to-side and the LFE is intense.
Supplements include an EPK featurette, three deleted scenes, theatrical trailer, and a D-Box motion code.
The subject matter isn't my cup of tea but I did appreciate the cinematography, exemplary sound design, and the performances. The presentation is top-notch and fans should be pleased with the Blu-ray.
Email any comments or questions!
Release Date: February 2, 2010
Studio: Universal
Movie: 4/10
Picture: 9/10
Sound: 9/10

Review System
Source
Oppo BDP-83 Blu-ray player

Display
JVC DLA-RS1 projector
Stewart FireHawk screen (76.5" wide, 16:9)
Electronics
Onkyo Pro PR-SC885 pre/pro
Anthem PVA-7 power amplifier
Belkin PF60 power conditioner
Speakers
M&K S-150s (L, C, R)
M&K SS-150s (LS, RS, SBL, SBR)
SVS PC-Ultra subwoofer
Cables
Monoprice HDMI cables (source to pre/pro)
Best Deal analog-audio cables
PureLink HDC Fiber Optic HDMI Cable System (15 meters) from pre/pro to projector

Acoustical treatments from GIK Acoustics
LATEST VIDEO