Faroudja DILA1080pHD and DVP1080 D-ILA Video Projector and HD Digital Video Processor
While we've all been happily watching our 1280x720 digital video displays, manufacturers have been quietly working behind the scenes to bring us 1920x1080. Every display technology, it seems, has its own higher resolution displays in development. Some are even in stores as I write.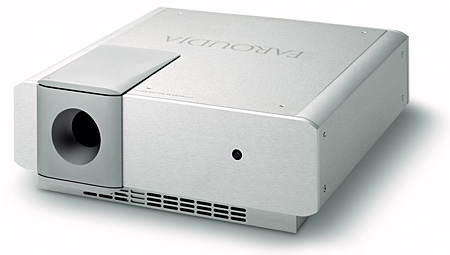 High resolution, however, is nothing new to the LCoS—Liquid Crystal on Silicon—camp. The new Faroudja DILA1080pHD is built around JVC's latest "2K" D-ILA projector (2K is pro-speak for projectors offering 1920x1080 resolution—or, in the pro world, 2048x1080). Together with Faroudja's new DVP1080 video processor—generally sold with the projector as a package, but also available separately—Faroudja is ready for the 1080p revolution. At $37,995 (with the DVP1080 commanding an additional $6995) the combination is definitely in the Ferrari-class of video displays, at least in price. Can it stay on the track with the rest of that field? We're here to find out.
Walkabout
In its crisp, brushed-aluminum dress, the Faroudja is certainly elegant looking. More importantly, however, each Faroudja projector is individually calibrated by William Phelps. Phelps is not widely known to the average consumer, but is one of the most highly respected projector setup men in the business. He has been trusted for years by many manufacturers, including Faroudja, to squeeze the very best out of their projectors at trade shows and other industry events. For that reason, all of my viewing was of the projector as it arrived, with no attempt to tweak the calibration.
Externally, the DILA1080pHD appears to have few controls and even fewer inputs. The back, where the jack panel resides on most projectors, has only the heat exhaust ports. A panel at the top—held snugly in place without screws and removable with some difficulty—hides the manual zoom and focus. While most projectors at this price (and far lower) motorize these adjustments, I don't really mind the manual controls; I often find it hard to zero in on just the right settings with motorized ones.
The right side trim panel (as you face the lens) can be removed (this time with screws) to reveal a single DVI input, an RS-323C connector, and mini-jacks for sync out and service. Remove a panel on the other side and you'll find the projector controls. But as with most projectors, you're more likely to operate the DILA1080pHD with the remote.
The trim panel that covers the input panel hides straggling wires, though the AC connection is on the opposite side of the projector and isn't hidden at all. The recessed input panel makes for a very tight fit. It's nearly impossible to insert and lock the DVI connector without removing the trim panel, and with the panel back in place the DVI cable has to make a relatively sharp bend on its way out.
There are no lens shift controls, nor is there any digital keystone correction. The latter isn't a big loss—it can compensate for a skewed image but degrades the picture in other ways. Even without these adjustments, however, it was only moderately challenging to configure the projector in the tabletop setup I use for testing. A shelf of the correct height, the projector's adjustable front feet, and a couple of wedge-shaped, rubber doorstops (!) did the trick. But the lack of lens shift will make a ceiling-mount setup—in which positioning must be accurately determined before holes are drilled—more difficult.
There is a feature called Picture Shift, which moves the image up or down slightly. But it does not reposition the lens, and does not move the entire pixel array. It instead shifts the image within the array. In other words, it is not a substitute for a lens shift control for fine-tuning the projector's setup. It appears to be useful primarily for slightly repositioning a 2.35:1 widescreen image to fit precisely within a masked-off area on a 16:9 screen.
You and Me and 1080p
Like all D-ILA projectors, the DILA1080pHD is a 3-chip device. That is, there are separate imaging chips for red, green, and blue. No color wheel is required, and there can be no rainbow artifacts—those brief multicolor flashes that annoy some (but not all) viewers with single-chip DLPs.
The DILA1080pHD is specifically configured for use with an external processor—obviously a Faroudja—with all source components connected to the processor and a single DVI connection between processor and projector. Even more specifically, the projector is designed to receive DVI only at 1080p/60.
There may be a 1080p revolution afoot, but not everyone has joined the party. At present, there is little consumer program material and few source components that operate at this native resolution, so we must rely on video processors/scalers to feed the projector a steady diet of 1080p. The scaling of standard program material to 1080p involves different challenges depending on the source resolution—480i, 720p, or 1080i—and only a few scalers can deal with all of them optimally.
Some processors convert 1080i to 1080p (or, in the case of 720p displays sets, to 720p) using a disturbing shortcut. Each frame of a 1080i source consists of two 540-line fields. Instead of combining each successive pair of 540-line fields to properly display each 1080i frame, these processors (many of which are built into one-piece televisions) take each 540-line field and simply scale it up to 1080p, interpolating the missing data (for a 720p display, each 540-line field is scaled to 720p). While all of the data are ultimately displayed, this deinterlacing technique, called "Bobbing," will certainly compromise the resolution of the high definition image.
Earlier Faroudja 1080p scalers—including the now-discontinued DVP-4000 I used in the early stages of this review—did use this 540-line upconversion technique. But Faroudja claims that the new DVP1080 performs full resolution deinterlacing with 1080i sources.