Ex Machina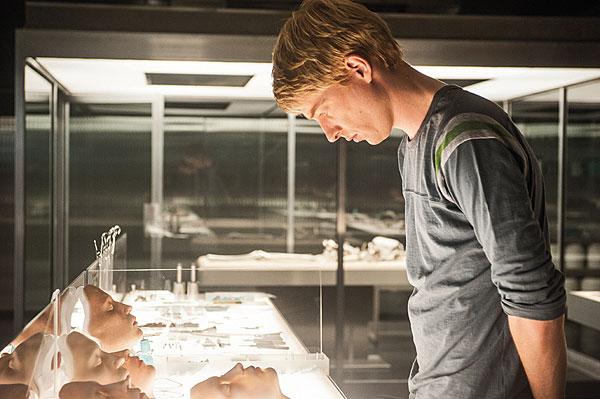 Writer-director, Alex Garland, has written numerous A-list screenplays before, but this is the first time he has directed, and it's quite a debut. The film doesn't move at a brisk pace, but this only helps build tension and momentum towards the conclusion where you know something bad is going to happen to someone. The interplay between Domhnall Gleeson (Smith) and Oscar Isaac (Bateman) is outstanding as they play their game of cat and mouse—is Bateman being honest with Smith, or does he have ulterior motives? Why was Smith chosen for this project? Is it some type of setup?
Unlike most movies these days, the film doesn't look to have been color-graded in post-production, and the resulting image is very natural and lifelike. The digitally shot production teems with detail, especially on the exterior shots, and the CGI is completely seamless with the live action. Its only real flaws are that shadows are a bit too murky, darker scenes exhibit some digital noise, and it can be a tad soft on occasion.
Ex Machina has the distinction of being the first Blu-ray title to support DTS:X, DTS's answer to Dolby's Atmos object-based audio format. Unfortunately, there's no hardware that currently supports the format, so my evaluation is of the core DTS-HD Master Audio 7.1 track, which is outstanding. While the majority of the soundtrack is subdued, there are instances where it comes to life in order to shock the audience. Pans move succinctly throughout the soundstage, and although it's rarely called upon, the LFE is demo-worthy when it comes to life.
Supplements include two in-depth making-of featurettes, nine behind-the-scenes vignettes, and a UV Digital Copy.
This is one of the best sci-fi films in years. I can't wait to give it another spin when DTS:X arrives.
Blu-Ray
Studio: Lionsgate, 2014
Aspect Ratio: 2.40:1
Audio Format: DTS:X / DTS-HD Master Audio 7.1 core
Length: 108 mins.
MPAA Rating: R
Director: Alex Garland
Starring: Domhnall Gleeson, Alicia Vikander, Oscar Isaac
Computer programmer Caleb Smith wins an inter-company competition to spend a week at the remote estate of the company's brilliant, yet quirky CEO and founder, Nathan Bateman. He soon learns that the vacation will be anything but when he's coerced into signing a nondisclosure release in order to administer a Turing Test on a new AI program that could revolutionize the world. It turns out that the AI has been placed in a fully functional—and human-looking—robot named Ava, who has been locked in a glass enclosure and can't be freed unless she proves to Smith and Bateman that she's achieved full consciousness and is not just copying human behavior.