Everest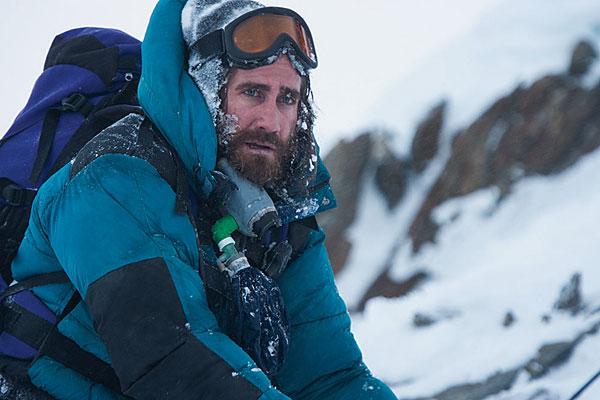 now a business rival. A mailman who wants to prove that anyone can achieve outlandish dreams. The closing titles show that the characters were, in fact, real people, and while the movie definitely follows a formula, the formula generally works. The A-list cast strives for realism, not character development, and I became lost in the tension as the crew hit problems with planning, poor decision-making, horrific weather, and the limits of human endurance in a hostile environment.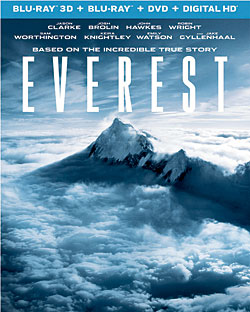 Portions of the movie were shot on location below base camp at Mt. Everest, but the scenes summiting the mountain were shot in the Italian Alps and on London soundstages that appear to be perfect matches with the real thing. The visuals are frequently stunning, though I found the (post-production) 3D distracting on interior shots and sometimes
a bit fake outdoors. That said, the scenes where the climbers cross impossibly deep ravines on rickety bridges and ladders are what 3D and large screens were made for.
There's obviously a lot of white in the snow scenes, but I didn't notice any color banding in the snow or digital artifacts in the swirling clouds. The color in interior scenes was oversaturated; that appears to have been deliberate, as the characters move from the warmth of Nepalese village huts to the unfeeling white, blue, and gray of harsh nature.
Not many Blu-rays combine 3D visuals and object-oriented Atmos audio, but this soundtrack definitely enhances the sense of immersion. Whenever the wind whips up onscreen, it viciously swirled around my room, and I could swear the temperature dropped a few degrees. Bass is strong and controlled in scenes with helicopters, thunder, and avalanches, but generally the sound design is used more to tell the story than call attention to itself.
Extras are straightforward: a director's commentary and featurettes on making the movie, visual effects, and location shooting, teaching the actors to climb, and the story and people Everest was based on. The comprehensive package includes a 3D Blu-ray Disc, 2D Blu-ray, DVD, and a code for both iTunes and UltraViolet Digital Copies.
Blu-Ray 3D
Studio: Universal, 2015
Aspect Ratio: 2.40:1
Audio Format: Dolby Atmos/TrueHD 7.1 core
Length: 122 mins.
MPAA Rating: PG-13
Director: Baltasar Kormakur
Starring: Jason Clarke, Josh Brolin, John Hawkes
The opening titles of Everest promise that this movie is based on a true story, but then we are led through what appears to be a standard Hollywood man-versus-nature tale, complete with distinct one-note characters to root for. There's the super-climber who built a business around adventure tourism, complete with a pregnant wife at home. A former protégé,