Epson PowerLite Pro Cinema 9500 UB LCD Projector
Price
: $3,699
At A Glance
: Excellent video processing • Superior adjustability • Blacks to die for
Epson's broad lineup of PowerLite home theater projectors can be a bit confusing, but the important point is that it splits into two parallel lines. At the top are the Pro Cinema models, and just below them are the Home Cinema designs. They track each other closely in performance, but the Pro Cinema versions offer a few extra features. These include an aspect-ratio setting for anamorphic projection on a 2.35:1 screen (the anamorphic lens required to use this is not included, and I didn't test this feature). They also include ISFccc Day and Night modes, a spare lamp, a longer warranty, and a black case (the Home Cinema versions are white). At the top of the line, and our subject here, is the Pro Cinema 9500 UB.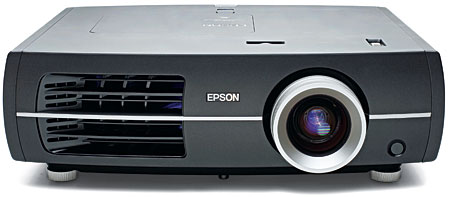 Description
In appearance, the PowerLite Pro Cinema 9500 UB—one of the few projectors that is currently THX certified—closely resembles last year's Epson flagship, the Pro Cinema 7500 UB. Its Fujinon zoom lens has a throw-distance range of 9.8 to 20.9 feet for a 100-inch (diagonal) 16:9 screen. The horizontal and vertical lens-shift controls, located at the top front of the case, have convenient mid-setting detents that make it easy to find the neutral settings. Lens shift, zoom, and focus are all manual.
The inputs are located in back. Epson claims up to 4,000 hours of life (presumably to half brightness and in the low, ECO setting) for the projector's 200-watt lamp.
The 9500 UB also employs the most recent version of Epson's D7 LCD imaging chips.
The projector has seven preset picture modes, which Epson calls Color Modes. Most of the controls for these modes (including a THX mode) are user adjustable. Moreover, they are adjustable for each input and separately adjustable for standard-definition sources (480i and 480p) and sources entering the projector with high-definition resolutions (1080i, 1080p, and 720p).
There are also ten user memories where you can save different settings. You can set up each of them separately for each input. My measurements indicated that the most accurate mode after calibration (but not before) is THX.
The Epson offers the widest range of controls of the three projectors under review here, although (as is usual in consumer video) some of them fall into the bells-and-whistles category. The Skin Tone setting, when available, is best left off. The Sharpness menu offers Standard and Advanced settings, and the latter provides four separate controls: Thick and Thin Line Enhancement plus Vertical and Horizontal Line Enhancement. While impressive, I found little use for this. The zero position (centered) of the Standard setting produced the most accurate result with good program sources.
Three types of digital noise reduction are provided: Conventional, Mosquito, and Block. I didn't need them in my testing or viewing, but they might be useful with poor source material.
The Setup Level and Epson Super White features are only available with component, S-video, or composite inputs. Super White is best left off.
I tried the Contrast Enhancement control and was sometimes drawn to the added punch it gave the image (but only in the lowest of its three settings). However, I found the picture more natural looking, overall, with the Contrast Enhancement off.
Other controls were more useful. A Gamma control offers five fixed settings from 2.0 to 2.4, plus a Customized option that lets you make your own custom adjustment from an onscreen graph or an actual source image. I found that a setting of 2.2 or 2.3 was generally best, depending on the source material.
There are two different lamp modes, ECO and Normal, under the Power Consumption menu option. The ECO setting produced more than enough brightness on my relatively small screen.
The RGB menu provides red, green, and blue calibration adjustments at the top (Gain) and bottom (Offset) of the brightness range. A separate Absolute Color Temperature control is adjustable in 500K increments from 5,000K to 10,000K, except in THX mode, where it is locked out. But THX still lets you access the RGB calibration controls. A color management system, RGBCMY, provides Hue, Saturation, and Brightness controls for all primary and secondary colors (red, green, blue, cyan, magenta, and yellow).
The motorized, dual-layered Auto Iris system is the heart of Epson's UltraBlack Technology. It's said to offer superior light attenuation compared with earlier designs in either of its active settings: Normal and High Speed. I did most of my testing and viewing in the Normal setting.
The 9500 UB's Super-Resolution control sounds like the sort of adjustment that's best left off. But I found that the lowest setting provided a very subtle enhancement that you might enjoy without suffering video-purist guilt. In my system, the middle setting didn't look much different than the lowest, but the highest added ugly white edge-enhancement halos.