Ed Wood
Ed Wood's films are Saturday-night horror-show schlock that practically defy belief with their ineptitude. But what comes across in Ed's films and Burton's film about the man is an irrepressible love of the movies and for the life that comes with it, such as it was in Ed's case. Ed and his merry band of co-conspirators were always D-list misfits, but they were the only ones who didn't know it. Ed's only "stars" were a way-past-his-sell-date, morphine-addicted Bela Lugosi (Martin Landau in an Oscar-winning turn), and 1950s L.A. TV personality Vampira. It's easy to see Burton's own relationship with Vincent Price in Price's last years in the affectionate treatment of Wood and Lugosi's collaborative friendship. Landau's portrayal of the aged great is booming and larger than life when called for, but nuanced with depths of sadness, nostalgia, and then surprising vitality as Wood offers him the last work he'll ever know. Brilliant work.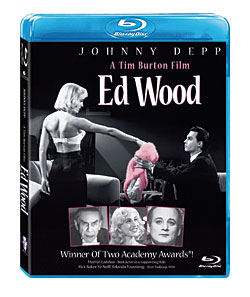 Ed Wood is one of the most gorgeous black-and-white films you'll ever see, and it looks terrific on this Blu-ray. The deep blacks, strong contrast, and moody lighting appropriately evoke memories of black-and-white greats from a different era. While the film grain looks natural and alive in a good way, there's sometimes just a bit more noise than you'd want, and the picture was just a smidge soft at some times. Otherwise sensational. The DTS-HD Master Audio sound is serviceable, with the star being Howard Shore's trippy, theremin-infused monster-movie score, which is an absolute blast. Dialogue is clear. Not a demo track, but fine.
The extras are vintage, ported from earlier releases, with the exception of the deleted scenes, which are high definition. Don't miss the commentary, which features Burton, Landau (in character), cinematographer Stefan Czapsky, and others. I mean it—it's terrific but hidden under Languages rather than Bonus Features. Ed Wood is a great movie for anyone who loves movies, good and bad, and the eccentrics who create them.
Blu-Ray
Studio: Disney, 1994
Aspect Ratio: 1.85:1
Audio Format: DTS-HD Master Audio 5.1
Length: 127 mins.
MPAA Rating: R
Director: Tim Burton
Starring: Johnny Depp, Martin Landau, Patricia Arquette
It's more than a little ironic that Tim Burton's best film as a director, from top to bottom, is about one of the most notorious bad filmmakers who ever lived. Actually, Edward D. Wood Jr. (Johnny Depp) is known for two things: spectacularly bad sci-fi/horror movies that are ridiculously fun to watch, and being a cross-dresser before it was cool. Both traits are given full attention in Burton's 1994 love letter to offbeat movies and their makers, Ed Wood.