Dynaudio Xeo 6 Powered Wireless Speaker Review Page 2
In addition to the Xeo Hub transmitter, Dynaudio offers other options. The Xeo Extender ($180) handles difficult transmission conditions, such as long corridors, partition walls, or line-of-sight distances of up to 164 feet. The Xeo Link ($180) is a separate receiver box with analog RCA, digital coaxial, and digital optical outputs. It can be used to feed a powered sub, headphone amp, or even another audio system, which might include an older generation of Xeo. The Link can run in the same zone with the Xeo speakers, taking over their volume control and input selection, or in a separate zone, independent of the speakers. This effectively makes the system multisource as well as multiroom. The forthcoming Dynaudio Connect hub is said to add Bluetooth as well as Wi-Fi-enabled app control of the Focus XD and second-generation Xeo systems.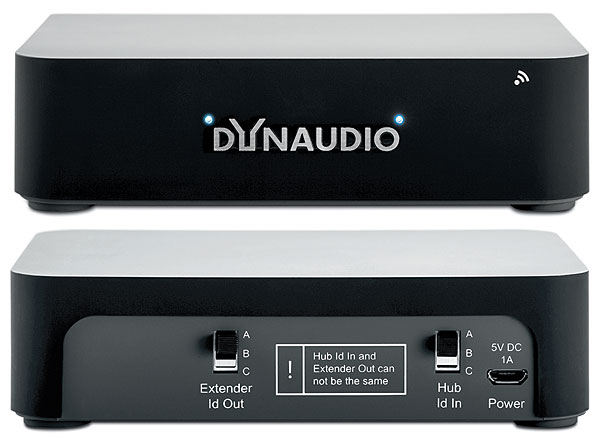 Setup was easy. I placed the Xeo speakers in my room's best two-channel position with their baffles 3.5 feet from the wall, which was lined with LP shelves, and 4.5 feet from the corners. This afforded little wall or corner reinforcement, so I chose the Natural EQ setting. I toggled to Left for the left speaker and to Right for the right speaker. The Zone setting was Red, though I didn't use more than one zone.
The Xeo Hub went onto my rack, where it received digital coaxial input from an Oppo BDP-83SE universal disc player and analog input from a Denon PRA-S10 preamp, the latter serving a Micro Seiki BL-21 turntable with Shure V15MxVR/N97XE cartridge. The first Hub I tried worked except for its USB input; the second sample worked fine. There was no AVR-type auto setup to run, no DAC-type software installation. All three transmission frequencies worked flawlessly in my RFI-rich urban New York City apartment environment, with Hub and speakers in the same room.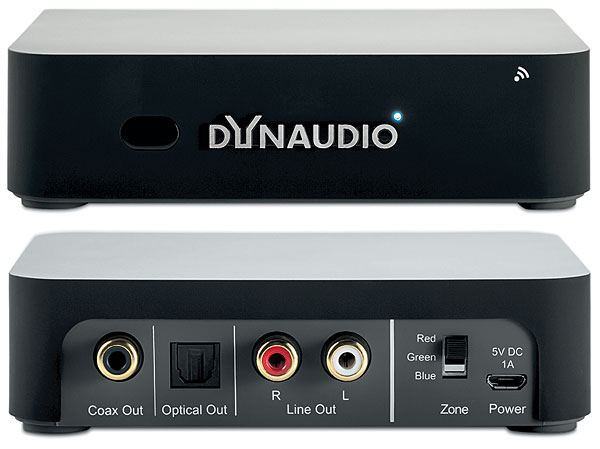 A Lot of CDs and a Little Vinyl
Dynaudio's signature sound isn't impaired by the lossless wireless transmission. It's a big, smooth, feel-good approach that flatters any kind of music or recording. This particular version is especially dynamic, perhaps thanks to the internal amplification. The silky, slightly reserved top end is typical of Dynaudio textile tweeters. The tower's dual woofers offer taut bass that reaches down through musically relevant frequencies with ease. I hesitate to say the bass response is even, because our Test Bench measurements can make a better assessment of that, but I didn't sense any missing pieces. [Ed. Note: I'd say remarkably even in the bass; see Test Bench.—RS]
With the 16-bit transmission system, playing CDs made a lot of sense, and I raided my tall Boltz shelves day after day. The Xeo 6 seemed especially adept with recordings that underwhelm through my less forgiving Paradigm/Pioneer and Era/Peachtree systems. For instance, Jan Akkerman's Minor Details, an album pieced together from MIDI files e-mailed among his band members' various home studios, usually sounds canned—yet the Dynaudio tweeters smoothed over the mechanical-sounding backing tracks and lofted the guitar over them like a virtuoso. Similarly, with King Crimson's Live at the Orpheum, a schematic account of the current incarnation's power- ful three-drummer lineup, the Dynaudios seemed to find more tone color and cohesion than my usual equipment does.
The beautifully recorded Thompson Family CD never sounded better. The voices of siblings Kami and Teddy poured out of the speakers like melted butter, while the emotionally charged voice of their mother, Linda, and the cantankerous baritone of their father, Richard, imaged solidly with their own unique timbres. Carlos Kleiber's reference-standard Deutsche Grammophon recording of Beethoven's Symphony No. 7 with the Vienna Philharmonic gave the Dynaudios straight As for fine-tuning of the famous string sound and overall lushness.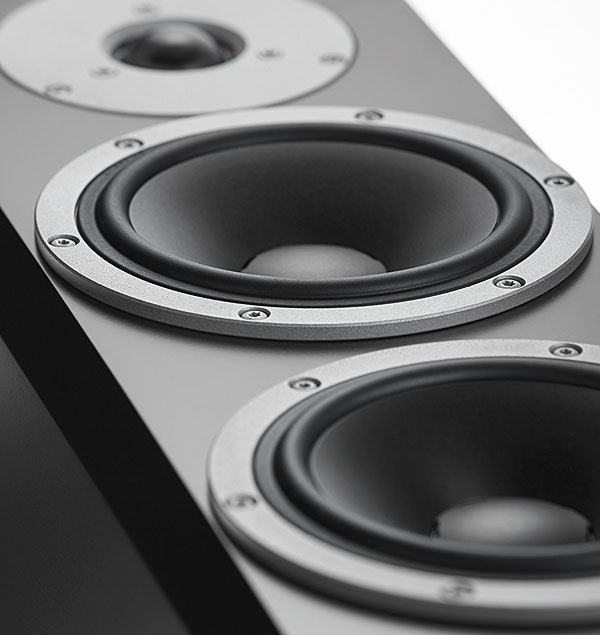 Vinyl was a trip in itself. On the title track of the Clash's London Calling, the dual woofers swung authoritatively (notwithstanding the line "we ain't got no swing") and brought out the doomy bass line and meaty drum sound. The speakers also met the more subtle dynamic demands of a best-case piano recording, Karl Engel's Schumann Edition: Das Klavierwerk IV, a Telefunken box set. Every pitch was clear, the left hand had appropriate (but not overstated) weight, the top end was sweet and open, and the midrange coherence enabled the pianist to practically sing Schumann's elegant melodies.
Movie Cameo
For a brief movie demo, I relocated the Xeo speakers from the short-wall position I use for two-channel music to the long-wall position I use for my surround system, and I fed them with a PCM stereo downmix from the Oppo's coaxial output. This speaker position afforded more wall reinforcement, as I found minutes into the Tom Cruise sci-fi vehicle Edge of Tomorrow (Blu-ray, DTS-HD Master Audio). As helicopters swarmed London, bass congestion became apparent. So I switched the boundary compensator from Natural to Wall and was pleased to hear how adroitly the bass response adapted to different room acoustics. Dialogue was quite clear, and with 50 watts going to each driver, the bombastic movie's relentlessly repetitive time-warp battle scenes came through with magnificent dynamism. When I paused the movie, the system would power down after a minute or so, but unpausing the disc player instantly powered it back up.
I started this review by whimsically suggesting that folks might buy a Xeo system and throw their AVRs onto a bonfire. Let me get serious long enough to note that systems based on active wireless speakers or AVRs (or soundbars or stereo preamps, for that matter) are aimed at separate audiences. Wear whichever T-shirt fits you best. A Dynaudio Xeo system won't replace all the functionality of an AVR or achieve the near-zero-footprint status of a soundbar. But the Xeo 6 undeniably appeals to a listener who wants a simplified music system and has floor space for a modestly sized pair of loudspeakers. It is easy to set up and use. Its ingenious architecture affords flexibility in speaker placement and multizone use. And though pricey, it does cover the cost of speakers, six channels of amplification, and—via the Hub—what amounts to a wireless preamp. While those with growing hi-res audio libraries should note the 16-bit limit of the transmission system, that doesn't prevent the Xeo 6 from loving all kinds of music. I certainly loved having it around.