Dynaudio Xeo 6 Powered Wireless Speaker Review
PRICE
$4,000 as reviewed
AT A GLANCE
Plus
Built-in triamplification
Wireless link to sources
Musically versatile sound
Minus
16-bit transmission ceiling
THE VERDICT
The Dynaudio Xeo 6 active wireless speakers are a great-sounding way to unclutter a two-channel music system.
In the history of civil unrest, there has never been anything quite like the audio rebellion. People are using half-inch-thick A/V receiver manuals as tinder and then throwing their receivers onto the flames. Doghouse-sized stereo amps and preamps are being spray-painted in the dead of night with slogans like "Where's the wireless?" Wrist-thick speaker cables lay coiled on curbs, next to garbage cans, where passing dogs do what comes naturally. Just the other day, I turned on the TV and saw a guy in a Dynaudio T-shirt giving a speech to an angry mob. "Burn your cables!" he shouted. "Sell your amp! Ditch everything that currently clogs up your system!"
Rebel Yell
Kidding aside, those quotes are straight from Dynaudio literature (I added the exclamation points). The Xeo speakers rebel against the conventional architecture of audio systems: They are active, meaning self-powered, so kiss your amps goodbye. They all but eliminate analog signal paths by handling preamp and crossover functions in the digital domain and employing switching amplifiers. Triple zone selection is built in. And they are wireless, receiving signals from a Xeo Hub. All signal sources are wired into the Hub. The only wired connections to the speakers are their power cables.
There are two new second- generation Xeo models, the floorstanding Xeo 6 and stand-mount Xeo 4. They are for two-channel use only; there is no matching center. If you want to try a 2.0 system for your home theater, you're free to connect a disc player and other sources to the Hub in stereo downmix mode.
The Xeo 6 mini-tower, reviewed here, mates one of Dynaudio's famous textile-dome tweeters with a pair of 5.5-inch magnesium silicate polymer-cone bass drivers in a 33-inch-tall rear-ported enclosure. The slim cabinet, in white or black satin lacquer, has a magnetically attached grille and outrigger feet that allow the speaker to be leveled on spikes or dampers.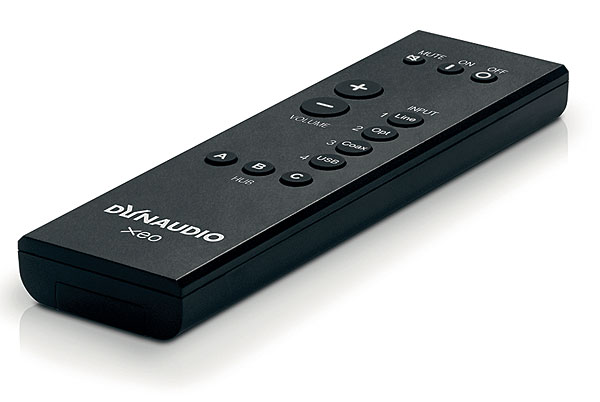 Each speaker gets 150 watts of internal amplification, with 50 watts going to each of the three drivers. The amplifier technology is licensed from Texas Instruments, having been first utilized by TacT Audio and originally developed by Denmark's Toccata Technology, a company TI acquired in 2000. They are not Class D, Dynaudio says, but TDAA, which stands for True Digital Audio Amplifier. Dynaudio's Michael Manousselis explains:
"The TDAA design consists of a PCM- PWM modulator device and a PWM power output device. This system accepts a serial PCM digital audio stream and converts it to a PWM audio stream, providing a large-signal PWM output. This digital PWM signal is then demodulated, providing power output to drive the loudspeakers. Thus, no DAC is needed in a Xeo system, and one of the reasons for the sound quality is that there is no conversion loss. Also, our engineers are able to program the DSPs to optimize each amp for the drivers."
A little receiver module sits atop each speaker. It is nonremovable and includes power, volume plus, and volume minus buttons. A small display has a pinpoint LED that glows blue for active signal reception, flashes red for signal hunting, and glows red for off. Below that is a line of white LEDs that light up for signal hunting and volume setting.
On the back of the speaker is a power jack—and no other jacks!—plus a trio of three-way switches. One sets Left, Right, or Mono operation. Another selects zones Red, Green, or Blue. The third switch is a boundary compensator that shapes bass according to speaker placement. The Natural setting maximizes bass response; Wall and Corner adjust for progressively more room reinforcement.
Xeo Hub, Link, Extender, Connect
The transmitter is the 6-inch-wide Xeo Hub (purchased separately for $300). One is required for every system, and a single Xeo Hub can handle up to three pairs of speakers, so you can add extra pairs of the Xeo 6 ($3,700/pair) or the compact Xeo 4 ($2,100/pair) to work in second or third zones with independent source and volume control for each. The Hub's front is bare except for a pinpoint LED that glows blue when the transmitter is active and red otherwise. On the back are two analog inputs (one RCA, one mini-jack), two digital inputs (one coaxial, one optical), a USB input, and an Ethernet input, the latter for updates only. Auto Play finds the active source. The Hub does not natively support Bluetooth or AirPlay (though a Bluetooth solution is on the way).
The transmitter has a toggle switch for three frequency IDs. Position A corresponds to the 2.4-gigahertz band. If there's a lot of Wi-Fi traffic in your household, B or C shifts the frequency up to 5.2 or 5.8 GHz. Transmission from Hub to speakers has a bit depth of 16 and a sampling rate of 48 kilohertz, slightly above CD quality but below the 24 bits and higher sampling rates of high-resolution audio. While the Hub can handle 96/24 sources, they are converted to 48/16 for transmission. However, that's lossless 48/16 PCM, using the KleerNet platform, with no lossy compression or discarding of data. Efforts have been made to reduce jitter. Transmission distance is claimed to be about 65 feet. The Hub's remote control has buttons for power on/off, volume up/down, mute, input, and zone selection.