DVDs: Re-release of the Star Wars Trilogy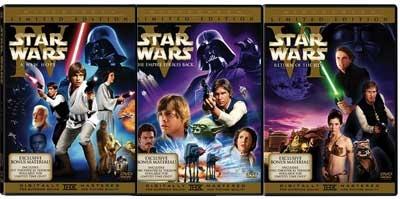 When George Lucas finally put his original Star Wars tales on DVD - in only the rerelease "final cut" versions, with some added digital effects and tweaked color - many Jedi fans cried foul. In response, Lucas has now issued fresh DVD editions of Episodes IV, V, and VI - namely, A NEW HOPE, THE EMPIRE STRIKES BACK, and RETURN OF THE JEDI (20th Century Fox/Lucasfilm; Movies ••••, Picture/Sound •••½, Extras •½).
As if to tell purists that they didn't know what they were talking about, Lucas serves up two-disc sets that not only contain the same "final cut" versions in all their video and audio glory, but also include the original releases in non-anamorphic letter­boxed widescreen with Dolby Surround sound. The old colors are funky (with explosions and fire in Jedi on the pink side), clarity is only slightly better than that of a laserdisc, and grain and grit are lurking. The sound fares better. It's not as clean or robust as that of the new Dolby Digital EX mixes, but it has plenty of good bass and excellent surround effects.
The only extras are the commentaries from the previous release and an ad for the LEGO Star Wars II videogame. Unless you believe the "Limited Edition" hype for these sets, you might want to wait for the rumored Star Wars Saga box, due next year to celebrate the 30th anniversary of A New Hope.
more of this month's reviews Back to Homepage What's New on S&V