The DVD Variety Show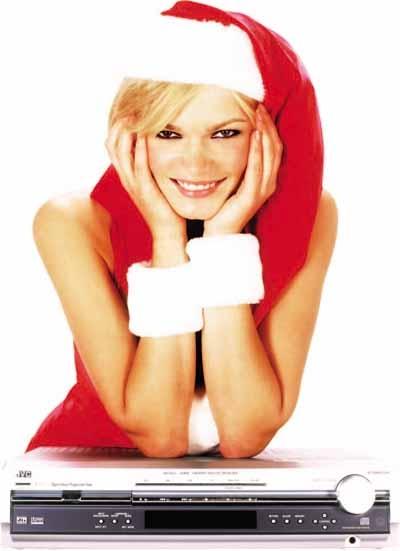 Photos by Tony Cordoza
Jump ahead: Features Checklist In the Lab
Good evening, ladies and gentlemen, and welcome to another fabulous evening of audio/video entertainment. Here, tonight, you'll see some of the most amazing home theater technology ever brought together on one stage. You'll marvel at four hot new DVD players. But these aren't just simple disc spinners! DVD has become so popular that players are sprouting new features and turning up in new places all the time. Each of the models here boasts a special talent that makes it stand out from the crowd.
You'll see a player/receiver combo from JVC, the RX-DV3SL, that sells for no more than many full-featured players alone ($450). You'll see a Panasonic player, the SC-DM3, that comes complete with a 5.1-channel speaker system, an amplifier, and an AM/FM tuner - all for only $450. Then there's Samsung's DVD-P721M player ($250), which has a Memory Stick slot that lets it play or display all sorts of audio and video data besides that on DVDs and CDs. Last but not least, Toshiba's SD-P2000 ($1,000) is a nifty full-featured portable player that even does DVD-Audio. Yes, they'll all play DVD movies, but they do it with their own special, audience-pleasing élan. And now, on with the show!
JVC RX-DV3SL DVD Player/Receiver
Most folks have a DVD player and an A/V receiver in their electronics stack - they go together like peanut butter and jelly. If you care about decent movie sound, and especially surround sound, a DVD player is practically useless for watching movies without a good digital surround processor and multichannel amplifier. But why mess with two separate components when you can combine their functions in one? The same logic that leads most people to prefer an A/V receiver is behind the RX-DV3SL, a DVD player/receiver priced at $450.
The chassis contains a single-disc DVD player and an AM/FM receiver with five 100-watt amplifier channels. The output for the subwoofer/LFE (low-frequency-effects) channel - the ".1" in 5.1-channel - is line level. And as befits any digital surround receiver, this one provides Dolby Digital and DTS decoding as well as various supplementary processing modes, including Dolby Pro Logic II. Around back, there are enough video input/output connectors to hook up a TV, a satellite receiver, a VCR, and so on, including a progressive-scan component output.
Unlike most of today's A/V receivers, whose tall, black-finished faceplates seem designed to exude power, the slim, silver-coated JVC appears quite genteel. A row of buttons selects a source, a dot-matrix display tells you what you need to know, and there's a headphone jack and the now de rigueur giant volume knob. You might not even notice the DVD drawer tucked away on the left side.
The matching silver-gray remote is pretty much standard issue, with the usual collection of buttons. There's a four-quadrant control for navigation, but nothing fancy like joysticks, backlighting, or - everyone's exotic favorite - glow-in-the-dark buttons. The remote, however, does unlock the player's hidden treasures. For example, you have direct access to numerous specialized DVD functions, like displaying the opening thumbnail images of nine chapters or displaying nine thumbnail images as a strobe sequence, and you can adjust brightness, contrast, saturation, tint, sharpness, and other video parameters.
Overall, though, DVD operation is limited. For example, only one fast-forward and one fast-reverse speed are available. And the onscreen DVD menu is somewhat arcane. On the upside, the RX-DV3SL plays CD-Rs and CD-RWs with MP3 audio files or JPEG image files, and the latter capability is enhanced by slide-show and zoom options.
The player/receiver offers standard A/V and DVD setup options and controls. For example, you can assign source names to both the analog and digital inputs, you can switch between the interlaced and progressive-scan formats on the component-video output, and there's both manual and automatic tuning for the AM/FM bands - there's even a sleep timer. Also, as with any digital surround receiver providing Dolby Digital/ DTS decoding, you can select speaker size, enter delay times (in feet) for the different channels, select a subwoofer/LFE crossover frequency, and set relative channel levels for playback of Dolby Digital/DTS soundtracks. You can also choose digital signal processing (DSP) ambience modes for music, such as Live Club.
To screen test these players' video talents, I watched Pearl Harbor, a big-budget WWII epic with acting talent upstaged only by its even higher production values. The flick looked quite good using the JVC's progressive-scan output. The opening scene shows small boys playing in a derelict plane. Detail on the radial engine, the diagonal wing struts, and tassels in the corn field all looked crisp and clean. The new generation of low-cost progressive-scan chips provides very good video performance, and this player is a good example of that. And if your TV can't display progressive-scan video signals, the S-video output also looked good.
The receiver's Dolby Digital decoder handled all the sonic bits quite nicely, but most of the credit goes to the power-amp section, which proved to be very energetic. My full-range, 8-ohm, main-channel speakers played loud during battle sequences, with low noise and distortion. The LFE track pumped energetically in the battle sequences, but, of course, the JVC can't take much credit - it merely delivers a line-level signal. Although this receiver isn't in the megawatt category, it will drive most home theater speaker systems quite nicely. Moreover, it provides all the essential setup options (like multiple crossover options) you'll need to tailor it to your speakers.
If you already have an A/V receiver but no DVD-Video player, or vice versa, it wouldn't make sense to purchase the RX-DV3SL - a separate component would be more cost effective. But if you're starting a modest home theater from scratch, or if you need a compact unit for a dorm room or bedroom, this one makes a lot of sense, particularly if you can scrape up five satellite speakers and a powered subwoofer. Although it might lack the operating flexibility of some players and the processing refinements and wattage ratings of some dedicated receivers, it has most of the capability most folks are likely to need. With the multitalented RX-DV3SL, JVC has added an interesting and useful new act to the DVD variety show.
Panasonic SC-DM3 DVD Minisystem
I'll pause while you take a close look at the photo of this DVD minisystem, designed for use in a small space like a bedroom or dorm room. Now, where do you think the DVD loading drawer is? Don't feel bad if you can't find it. I couldn't until I pressed the open/close button and the top section (with the LCD window and five buttons) rotated to the right. A vertical, clear-plastic disc drawer smartly emerged, with a bottom groove that holds the disc. You just have to remember to load discs with the playing side facing left.
The keen disc drawer is only one of many surprises in this compact system. Perhaps what's most surprising is how many capabilities are crammed into it given its size and price. To wit, this system plays DVD-Video, DVD-Audio, DVD-R, CD, CD-R/ RW, and MP3 files on CD-R/RW. It includes a Dolby Digital/DTS decoder, an AM/FM tuner, five satellite speakers, a subwoofer, six amplifier channels, and a remote control.
The shiny plastic front panel is simplicity itself, with a few buttons to select sources and tracks, a headphone jack, and a giant volume knob. You can use the SC-DM3 either horizontally or vertically, but I think it looks better upright. When you're using the tuner, the onboard LCD shows the band and tuned frequency. The only outputs besides composite/S-video to your TV are the six speaker outputs, via a tiny terminal strip, and a headphone jack. There's an auxiliary analog audio input but no line-level audio outputs or any digital audio connections.
The amplifiers are rated at 15 watts each for the front left/right, 45 watts for the center, 20 watts each for the left/right surrounds, and 55 watts for the subwoofer, all into 8 ohms at a maximum of 1% total harmonic distortion (THD). I'm not sure why the front L/R speakers would be given less power than the center and surround channels, but I suppose the designers had their reasons. The satellite speakers each have one 2 1/2-inch driver, and the ported subwoofer (purists would call it a "bass module" because it doesn't even try to reproduce the lowest octave) has a 6 3/4-inch driver. Conveniently, the sub's volume is independently adjustable from the remote control.
Speakers with nondetachable wires are almost always a sign of a low-grade system, and the five satellites and subwoofer here have wires permanently sprouting from their backsides. I guess it does make setup a bit easier. At least the speakers aren't permanently wired to the system unit, theoretically allowing you to upgrade to better speakers. However, the owner's manual cautions against using different speakers, probably because the preamplifier applies fixed equalization to shape the output signals to the supplied speakers' characteristics. But the equalization only changes the response by a few decibels, so you could probably use other speakers and get away with it.
The setup menu lets you select video black level, and on the audio side, dynamic-range compression and delay times for the center and surround channels, but only for Dolby Digital soundtracks. When you're playing Dolby Surround soundtracks with Pro Logic decoding, you can also adjust speaker levels (-16 to 0 dB for the front left/right, -10 to +6 dB for the other satellites, ±10 dB for the sub). Bet you didn't expect that from a home-theater-in-a-box system. Other menus, obviously derived from the menus used on other Panasonic DVD players, provide easy-to-understand yet detailed operation.
Most of the other features are standard, with a few exceptions. A Chapter Preview function plays the beginning of each chapter up to the point where you stopped playback, to help you remember what happened. The Cinema picture preset, according to the manual, "mellows images and enhances detail in dark scenes." You can tweak contrast, brightness, and color. A Dialogue Enhancer is intended to improve intelligibility of the center channel. You can also mix 5.1-channel Dolby Digital or DTS signals down to two channels, and there are different presets for alternative equalization and reverberation settings. The supplied remote control is somewhat arcane. To limit the button count, some features can be accessed only by first pressing a Shift key.
The player did a good job with Pearl Harbor even though the images conveyed via its composite- and S-video outputs weren't as crisp as the progressive-scan images I'm accustomed to seeing via component-video outputs. One scene shows a Japanese spy snapping photos of the military installations, and his information is incorporated on charts and maps. These images are razor sharp on a progressive-scan display, but lacked that detail in an interlaced display derived from the Panasonic's S-video output. Don't get me wrong: the player's S-video performance was fine. On its own, the SC-DM3's video quality will be good enough for most TV sets.
The soundtrack of Pearl Harbor is very busy, and never more so than when the planes start swooping down, to the accompaniment of bombs exploding, machine guns firing, and a full orchestra. This system certainly pumped out copious amounts of sound, much of it very good, but the little speakers were no match for the bombast created by the Hollywood mixing engineers. Movie sound quality was certainly okay, but the SC-DM3 is best auditioned in a small room or at modest listening levels.
I checked out DVD-Audio playback with the Wailing Souls' Face the Devil. This 5.1-channel mix puts you right in the middle of the reggae beat. Somehow, I'm not sure why, the result is more relaxing and satisfying than hearing the same music squirting out of two speakers. Fidelity was obviously limited by the system's speakers, but the sound was certainly listenable. The satellites provided good presence with a taut, if colored (not neutral) sound. The subwoofer carried the beat nicely, with a decent amount of low bass. On songs like "Jah Jah," the midrange/bass transition actually sounded pretty good, and though I'm loath to admit it given the cheesiness of most EQ presets, the Heavy preset yielded a mellow bottom end. For its price, the system played loud enough with reasonably low distortion, and overall sound quality was adequate.
MP3 playback worked as advertised. Sound quality was limited by bit rate, not the electronics. It was decent at 128 kilobits per second (kbps) and much better at 192 kbps. The player allowed repeat, random, and programmed playback of MP3 tracks. One bummer: it doesn't support the increasingly common ID3 tags, which carry titles and other nonaudio information.
Clearly, the Panasonic SC-DM3's performance and flexibility are limited. But if you need an all-in-one system, perhaps for a dorm room or bedroom, this one will provide a ton of capability for an almost featherweight price. The idea of getting DVD-Video, DVD-Audio, CD, CD-R/RW, and MP3 playback, AM/FM radio, Dolby Digital/ DTS decoding, a six-channel amplifier, five satellite speakers, and a subwoofer, all for less than the cost of some plain DVD players, is fairly amazing.
Samsung DVD-P721M Memory Stick DVD Player
At first glance, the DVD-P721M might pass for any other home DVD player. Sure, its all-silver chassis is eye catching, and the clear plastic panel across its face gives it a certain elegance. It's also nice to see a jog/shuttle dial and a headphone jack with level control. But only with extra scrutiny will you spot the DVD-P721M's secret talent - a built-in Memory Stick reader.
Memory Sticks are removable, transportable flash-memory media that can hold digitized audio, video, text, still images, and almost anything else a camcorder, camera, audio recorder, or computer can store on them. The format was pioneered by Sony and is supported by Samsung, Hewlett-Packard, and others. The DVD-P721M recognizes Memory Sticks with JPEG still images or MP3 audio files, and it can display the images or play the music. Of course, it can't record these formats to a Stick, and it also won't play specially encrypted copyrighted data on MagicGate Memory Sticks, though it can play unencrypted data on MagicGate Sticks.
Samsung didn't forget other, non-Stick niceties. The DVD-P721M plays CD-R and CD-RW discs, including those with MP3 files. A nice MP3 Digital Music Player menu appears onscreen with a list of directory and file names when you pop in an MP3 disc. The player will also display JPEG images stored on CD-R/RW. And a switch on the rear panel lets you choose between interlaced format or progressive-scan (with 2:3 pulldown) for the component-video output.
The standard-size remote has all the buttons you'll need for complete control, plus a small thumb-operated joystick. But for those times when you only want to watch a flick, Samsung also includes an "easy" remote, about the size of a duck's egg, with just the basic controls. Better yet, the four most essential ones glow in the dark.
Here are a few interesting features available only from the main remote: For those "I can't believe they just did that" scenes, Instant Replay lets you rerun 10 seconds of a movie preceding the point when you hit the button - instant déjà vu. Can't stand those black bars at the top and bottom of your standard squarish screen when you're watching widescreen movies? The Screen Fit button enlarges the picture to fill in the black areas (at the cost of losing portions of the image on the sides). In a hurry? The 2x Audio feature lets you watch movies at double speed and hear the dialogue at normal pitch, just twice as fast. The player's menus, including the setup menu, are all very explicit and easy to use.
There's no Dolby Digital or DTS decoder onboard, but that's no big deal since you're almost always better off using the one in your receiver. The DVD-P721M played only some of my CD-RW discs. But with some of them it hung up and had to be turned off and on again to unload the discs.
The player's progressive-scan output yielded a great picture. One scene in Pearl Harbor makes every inoculation seem like a lethal injection. The butt cheeks were appropriately rosy, and the eye-exam charts were in considerably sharper focus than Ben Affleck's wobbly vision. The DVD-P721M is another in the growing list of inexpensive DVD players demonstrating that very good video performance is now available at very reasonable prices.
On the downside, track access was painfully slow when playing CDs. If I wanted to move ahead six tracks, I couldn't just jab the track-skip button six times. I had to wait for the transport to move to each track before pressing it again. However, if I used the large remote's numeric keypad to punch in track numbers directly, things went much faster.
Sound quality was fine in CD playback. I listened to Los Lobos' Good Morning Aztlan, another great album of blues/Latin dance music. "The Big Ranch" has some of the sweetest pedal steel and electric guitars you'll hear north of the Rio Grande, and the player reproduced them exactly as recorded.
The Memory Stick reader performed as advertised. The Audio Manager displays folder and file names of MP3 audio files, and you can select regular, repeat, or random playback. As with any MP3 playback, sound quality was determined primarily by the encoded bit rate. Files with rates below 128 kbps sounded fairly crunchy, while those with rates of at least 192 kbps sounded good.
I also viewed some JPEG still images. The Photo Manager displays thumbnails of eight images at a time, letting you choose the one you want to see full size. You can also view photos in a slide-show format, choosing the sequence and display duration. Displayed image quality was very good and probably ultimately limited by the file size. A Photo View menu lets you rotate, flip, zoom, and pan across images. You can even apply filters, adjust color, and soften images, but none of these adjustments can be stored on the Memory Stick.
The DVD-P721M is a tidy DVD player that provides the important stuff (like progressive-scan video) and avoids the unimportant stuff (like onboard Dolby Digital/DTS decoding). All in all, it's a great example of cost-efficient design. You'll appreciate the features (and performance) it does provide and probably never miss those that it omits. If you already use Memory Sticks to move digital music and images around, you'll like being able to easily plug them into your home theater system. For $250, Samsung has created an extremely talented DVD player.
Toshiba SD-P2000 Portable DVD Player
| | |
| --- | --- |
| | |
| | |
Whether it's the "Wow!" factor, convenience, or just cuteness, we're willing to pay a premium for miniaturized electronics. In time, the price of portability usually drops, and DVD players to go are already available for considerably less than the cool $1,000 Toshiba asks for its SD-P2000. But if you spend a lot of time taking trains or planes, it might be a reasonable investment. The SD-P2000 manages to combine a large LCD screen with a small chassis. It also packs a nice combination of features and performance, including MP3 playback, two-channel DVD-Audio playback, and both interlaced and progressive-scan component-video output. Like other DVD and CD portables, it has a clamshell design. The lid opens to reveal the almost 9-inch (diagonal) screen (1,024 x 600 pixels), built-in stereo speakers, disc well, and basic controls, including a four-way cursor. The video image is invertible, so you could install the player upside down on the interior roof of a vehicle for backseat entertainment.
The rear panel sports the essential connectors. Some are nonstandard, but adapter cables are provided for routing audio and video signals to a home theater. In particular, a minipin A/V cable provides RCA connectors for composite video and stereo audio, and a cable for the component-video output has three RCA plugs at one end and a single 14-pin Centronics type D plug at the other end. There's also a standard S-video jack and a minijack A/V input for external signals (such as from a camcorder). The SD-P2000 docks with a supplied rechargeable lithium-ion battery pack that's almost as big as the player itself (there's no internal battery). The pack provides about 3 hours of playing time. An AC adapter is also supplied, and an optional 12-volt DC adapter is available for use in a vehicle.
A wafer-thin remote control accesses all the extra goodies, using an excellent graphical interface similar to those found on Toshiba's home players. An Enhanced Dialogue mode boosts intelligibility of center-channel dialogue, Spatializer N-2-2 virtual surround processing is provided for more immersive sound from a pair of speakers, Chapter Preview displays six thumbnails showing the start of chapters, a Strobe Viewer displays images in successive order, and a Capture feature lets you create custom movie wallpaper that can be displayed in startup and standby modes. You can also create three custom picture settings with adjustments for sharpness, brightness, contrast, and color. But you can't adjust volume from the remote.
Pearl Harbor looked very sharp on the player's LCD screen. I've checked out a number of portable players, and plenty of 12-volt mobile screens, and this one ranks among the best I've seen. I was expecting the climactic battle scenes to be underwhelming on the small screen, but I was wrong. The picture had terrific resolution, with crisp detail. The red and orange of the fiery explosions were vivid and brilliant even in bright ambient light. (To conserve power, the screen isn't as bright when you're using the battery.) The viewing angle was excellent, with good visibility even way off the horizontal axis (vertical off-axis visibility was merely average). I can't say enough good things about this LCD screen. The image quality through the video output was quite good as well. I fed the progressive-scan output (selected in the setup menu) to my home TV and was very satisfied with the resolution and clarity of the picture. Remarkable results from a portable device.
Multichannel Dolby Digital and DTS soundtracks are mixed down to two channels for playback on the portable's tiny speakers, which predictably sounded tinny. Moreover, even the maximum volume was quite soft - good enough for casual listening, but no more. Fortunately, the headphone outputs (there are two jacks) provided a robust stereo signal with reasonably low noise. The stereo line-level output also provided good sound on my system. Of course, the multichannel digital audio output sounded fine as decoded by my receiver and played over my speaker system, but the Toshiba can take little credit for that.
For DVD-Audio, I returned to the Wailing Souls' Face the Devil. Naturally, the onboard speakers didn't do justice to this lively Caribbean sound, but the analog stereo output sounded good on my home speakers - clean, quiet, and uncolored. Even the intentionally gimmicky reverberation on "Mr. Bigmore" sounded great. Too bad it was only a stereo mix. The digital output, too, is stereo only from DVD-Audio discs. Not only is there no multichannel digital output for external decoding of these signals - something no other DVD-Audio player gives you either - but there's no way on this player to even hear a multichannel DVD-Audio program as the producers intended. Then again, it is a portable. MP3 playback worked fine, with typically better sound at higher bit rates.
Clearly, the Toshiba SD-P2000 will appeal most to the man and woman on the move. Although its component-video output could drive a big, high-definition TV, it wouldn't make much sense to plug this little beauty into an AC outlet and park it in your living room. Instead, it yearns to run on its battery pack, in seat 1A, at 35,000 feet. I was very impressed with this little player. It may be small in size, but from a performance standpoint, it's no toy.
And that's all we have time for in tonight's show! I'd like to thank our four performers for a most interesting evening. The pool of DVD players is enormously diverse and getting more and more talented every day. With specialties like a Memory Stick reader for displaying photos, combination player/receivers, convenient all-in-one systems, and, of course, everybody's favorite, portable players (with progressive-scan video no less), there's something for everyone. Please tune in again next month when we'll once again showcase the best and brightest in home entertainment, here on the DVD Variety Show. Goodnight, everyone!