DVD REVIEW: Unbreakable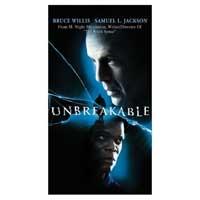 Buena Vista
---
Movie •••• DVD ••••½
Like its predecessor,
The Sixth Sense
, writer/director M. Night Shyamalan's
Unbreakable
is suspense at its best, creating a world where the fantastic emerges effortlessly from the rhythms of everyday life. It would border on the criminal to give away its myriad twists and turns, but suffice it to say that
Unbreakable
tells the story of the sole survivor of a train wreck (a strong Bruce Willis), who is led on a path of discovery by an eccentric and charismatic stranger (Samuel L. Jackson, solid as always).
This two-disc DVD set is to be savored. The THX-supervised transfer is superb, drawing plenty of detail from a mass of contrasting images. Dimly lit sequences are often juxtaposed with bold - and relevant - splotches of color. In fact, I recommend liberal use of the still-frame function; Shyamalan's compositions are beautiful, meaty, and always in the service of the story.
Unbreakable is the first title in Disney's Vista series of bonus-filled DVD packages, and the extras here include a commentary by the director and cast, eight deleted scenes, and a multi-angle look at a key sequence. There's also an excerpt from a Shyamalan short movie and a featurette on the more important comic-book artists. This is simply the best DVD I've come across so far this year. English, Dolby Digital and DTS 5.1; French and Spanish, Dolby Digital 5.1; letterboxed (2.35:1) and anamorphic widescreen; one single- and one dual-layer disc.