DVD Review: Smokin' Aces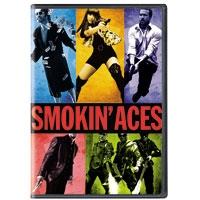 Universal
---
Movie ••½ Picture •••½ Sound ••• Extras ••½
For Buddy "Aces" Israel (Jeremy Piven), being Vegas's top-rated entertainer just wasn't enough. This wannabe bad boy likes to hang with the gangsters and play at being one himself - that is, until things get a little too hot, and he offers to spill his guts to the FBI. Now, everybody wants him: the feds, his bail bondsman, and a slew of hitmen responding to a million-dollar bounty put on his head by the mob. And what an assortment of assassins they are, including a homicidal band of redneck neo-Nazi brothers, a Mexican torture specialist, and couple of killer lesbian babes (Alicia Keys and Taraji Henson). In fact, the characters and cast are the most enjoyable part of this action movie. The story is like warmed-over Quentin Tarantino, and though there's some snappy dialogue, the plot is way too complicated for its own good. Still, if you just sit back and enjoy the mayhem and the trail of actors who stop by to join the proceedings (including Ben Affleck, Andy Garcia, Ray Liotta, Ryan Reynolds, and Jason Bateman), you can still have a pretty good time.
Given the amount of ammunition that gets expended throughout the film, you'd expect more attention to have been paid to the Dolby Digital 5.1 soundtrack. It's fine, but it doesn't feature the thumping subwoofer or the stunning surround effects that should accompany this kind of movie. While it certainly delivers on dynamic range, some better use of the rear soundstage could have made for a much more immersive experience.
Images are too grainy to allow for eye-popping detail, but this seems to have more to do with the look that writer/director Joe Carnahan was going for rather than any flaw in the DVD transfer. In fact, it deals well with the movie's wide range of environments, from the panoramic view of the Vegas-style hotel's top-floor suite to the green-bathed hallways of its basement. And all the carnage means that you'll have plenty of opportunity to make sure your display is reproducing reds properly.
The extras certainly favor quantity over quality - and ultimately they're overkill, given the quality of the movie. There are two commentaries, one with Carnahan and editor Robert Frazen, the second with Carnahan and cast members Christopher Holley, Zach Cumer, and rapper Common. Both sessions seem to have been a lot more fun to record than they are to listen to. You also get four deleted/extended scenes (none of which adds much to the film), an alternate ending, and an outtakes reel; if you've always wanted to see how lousy Affleck's pool game is, you've come to the right place. As for the featurettes, they include a standard behind-the-scenes piece, 5 minutes on the special effects, and a few pretty worthless segments of the actors discussing their characters. [R] English, Dolby Digital 5.1; letterboxed (2.35:1) and anamorphic widescreen; dual layer.
more Entertainment reviews Back to Homepage What's New on S&V