DVD Review: The Riches: Season 1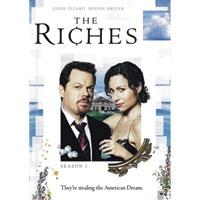 20th Century Fox
---
Series •••• Picture •••½ Sound •••½ Extras •••½
"The American Dream - we're going to steal it." That statement by Wayne Malloy (Eddie Izzard) perfectly sums up the major story arc for the 13 manic episodes that comprise the first season of FX's seedy, impish drama The Riches. Izzard, Emmy-nominated Minnie Driver as his wife, and their three resourceful kids are vagabonds who scheme their way into harvesting the comforts of modern Southern suburbia.
The show's pallor is mainly brown and gray, to reflect the underbelly of said alleged American Dream, but you'll be able to discern some nice red on DVD with the lipstick smear that Driver deliberately leaves on a dazed investor's lips - as well as the cool blue of an extravagant backyard pool. Office chatter and chirping birds take up their proper spots in the surround channels, though the barking-dog loop is perhaps a bit too perpetual.
Two commentaries by Izzard and series creator Dmitry Lipkin offer lively repartee and revelations about some of the actors' "tells." Seven clever Webisodes and other recycled bits round out the mostly fine extras in this four-disc set. Thanks to the charisma of its leads, this "show about outsiders" displays just enough heart to get inside yours.
more Entertainment reviews Back to Homepage What's New on S&V
LATEST VIDEO