DVD Review: Rescue Dawn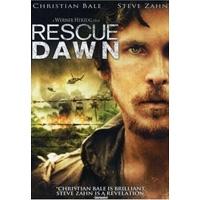 MGM
---
Movie •••• Picture •••• Sound •••• Extras •••½
Who would have predicted that Werner Herzog, the acerbic German director behind harsh tales of obsession and madness like Aguirre: The Wrath of God and Fitzcarraldo, would come up with this rousing, uplifting, Hollywood-style movie and its positive messages of courage and loyalty? Herzog had previously told the true story of German immigrant Dieter Dengler - the only American POW to escape captivity during the Vietnam War - in a documentary called Little Dieter Needs to Fly. But when the real Dengler suggested that a movie would best tell his tale, Herzog sprung to action and wrote a lean, powerful screenplay. The results may make you wonder if conventional narrative wasn't Herzog's true calling after all.
On disc, Rescue Dawn feels like an unexpected gift. A sharp and vibrant transfer captures all the mystery and menace of the dense jungle, which ultimately serves as Dengler's prison. Shot mostly on location in the wilds of Thailand, the lush images never stray into pure aesthetics; as cinematographer Peter Zeitlinger explains in the disc's documentary, Herzog repeatedly reined him in to give the film its focus and strong sense of purpose. On the small screen, especially, this brings welcome attention to great performances by Christian Bale and Steve Zahn, among others. Despite limited use of the surround channels, the Dolby Digital 5.1 mix does push into overdrive when the story demands.
A fairly conventional set of extras is elevated by a series of dramatic stories about making the film deep in the jungle under unusually trying circumstances. In the segmented 46-minute documentary, most of the cast and crew weigh in on working among snakes, poisonous insects, and elephants, and how their harrowing real-life experiences worked their way into the film. Six minutes of deleted scenes are enriched by Herzog's accompanying commentary, in which he explains his mostly subjective reasons for leaving them out. The director's full-length commentary is marred by the sometimes annoying presence of interviewer Norman Hill - although in the end, Hill manages to lend some structure to the proceedings and helps give Rescue Dawn the full analysis it deserves.
more Entertainment reviews Back to Homepage What's New on S&V
LATEST VIDEO