DVD Review: The Queen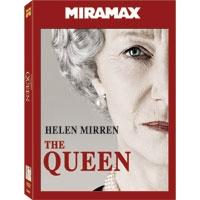 Miramax
---
Movie •••• Picture ••½ Sound ••• Extras •••
The Queen
has many pleasures - not the least of which is Helen Mirren's pitch-perfect, Oscar-winning portrayal of the reigning English monarch. In examining the brief period of time immediately following Lady Diana's death, director Stephen Frears and his cast have created a humanizing portrait of Queen Elizabeth II in particular, but also of the adult members of the extended royal family and their small circle of advisers and minions.
The DVD transfer is decent but hardly a visual triumph. Flesh tones are finely rendered during close-ups of Mirren's endlessly expressive face. However, many images are a bit soft, particularly those showing the lush hills surrounding the royal family's estate in Balmoral, Scotland. I would have liked to see more definition and a broader color palette in the landscapes. When Elizabeth first encounters a strikingly magnificent deer that serves as an ongoing metaphor for her situation, its fur simply doesn't have the shine or the fine detail one would expect from such a careful production. (It's possible that the hide's lack of luster is purposeful, meant to illustrate the decay of the monarchy - but that's a bit of a stretch.)
Sonically, the disc is quite good, though limited in ambition. This is a film about conversations, above all else, and the dialogue is perfectly defined. Most of the audio stays up front, except for the occasional and effective use of the surround channels to punctuate the action outside Buckingham Palace, where thousands gathered to mourn Diana's death.
There aren't many extras, but the ones provided won't waste your time. You get two commentaries - the first with Frears, who's lively and informative, the second with historian Robert Lacey, who serves up quite a few important tidbits about protocol and the recent history of the monarchy. There's also a making-of featurette where Frears, Mirren, and the rest of the cast provide sound bites. Not surprisingly, Mirren's thoughts on channeling Elizabeth are extremely entertaining - and they tell a lot about the art of acting. [NR] English, Dolby Digital 5.1; Spanish, Dolby Surround; letterboxed (2.35:1) and anamorphic widescreen; dual layer.
more Entertainment reviews Back to Homepage What's New on S&V