DVD Review: Prime Suspect; Cracker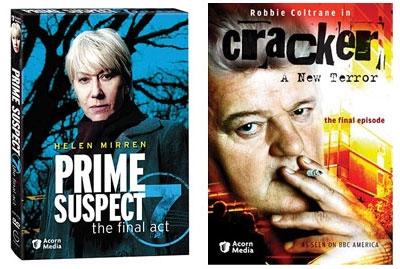 Prime Suspect 7: The Final Act Acorn Media
---
Episode •••• Picture •••½ Sound •••½ Extras •••½
Cracker: A New Terror Acorn Media
---
Episode •••• Picture ••• Sound ••• Extras •••
Two of the most prominent mystery-suspense TV series to come out of the early 1990s - British or American - bow out at the same time in newly created final episodes that make you wish either series would never stop.
Both lead characters - the world-weary Detective Superintendent Jane Tennison (Helen Mirren) of Prime Suspect and Dr. Edward "Fitz" Fitzgerald (Robbie Coltrane) of Cracker - have been ravaged by drink during their 15-plus TV years. Tennison has come off the worse for it, to the point where she must solve her final case while battling blackouts, a suspicious boss, and an antipathy toward AA meetings. Even at the end of the 208-minute episode, you're left wondering whether she'll ever recover or just keep sliding downhill to oblivion. No happy wrap-up for her.
Ace criminal psychologist Fitz seems able to deal with his drinking problem without the need for any outside help. He just drinks a lot, passes out, comes to, and climbs back on the case. You get the feeling he could keep doing this for the foreseeable future. As with his dogged counterpart, decades of boozing haven't taken the edge off his perception when it comes to catching and interrogating murderers.
Each series is still as courageous as ever in dealing with hot-button topics. In the past, these have often paralleled one another in tackling sexism, racism, and homophobia. World-weary Tennison's final police investigation concerns some suspected improper conduct between adults and children, a missing teenager, and Tennison's own relationship with her dying father. In worldly-wise Fitz's final hour (well, two), it's a matter of using his empathic skills to get into the mind of a policeman who has gone completely overboard due to the stress of fighting in Northern Ireland. Jimmy McGovern's script is quite an indictment of American policy in Afghanistan and Iraq, setting the story in a bleak and violent post-9/11 world, and Antonia Bird's direction only enhances the mood.
Beautiful picture and sound quality isn't such an issue with these gritty shows. In fact, though both were shot in widescreen high-def video, the images are deliberately grainy - at times almost like newsreel footage - and the DVD transfers don't attempt to tart anything up. However, the darker scenes of Prime Suspect do reveal detail, while comparable moments in Cracker look murky and ill-defined. Both DVD sets have very robust stereo soundtracks. Brit producers don't seem to have embraced 5.1-channel sound yet, but you can still get good surround effects by running the signals through a Dolby Pro Logic processor.
Each set contains its own interesting 50-minute featurette that goes back to the beginning of the series and relates its history through footage from various seasons and recently conducted interviews with the stars. Prime Suspect's featurette has the edge, perhaps because the supporting actors are a little bit more interesting than Cracker's.
Both shows created the mold for many modern police shows - but since there's only one Helen Mirren and one Robbie Coltrane, we'll still be watching Tennison and Fitz on DVD for a long while to come. Both: [NR] English, Dolby Digital stereo; letterboxed (1.85:1) and anamorphic widescreen. Prime Suspect: two dual-layer discs. Cracker: one dual-layer disc.
more Entertainment reviews Back to Homepage What's New on S&V
LATEST VIDEO