DVD Review: Not Just the Best of The Larry Sanders Show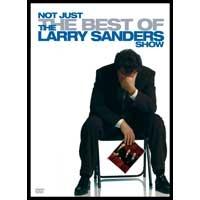 Sony
---
Series ••••• Picture ••• Sound ••• Extras •••••
DVD-extras mavens, be advised: There's a new sheriff in town, and his name is Garry Shandling. With this jam-packed four-disc set, he's created a new standard of supplement depth and detail, making it virtually impossible to accept any TV-on-DVD release that contains little beyond the episodes.
The fact that every (underscore, every) major player from The Larry Sanders Show is involved in the extras - either via interview, personal sessions with Shandling, documentary footage, or commentary - speaks volumes about the respect that people continue to have for this show. Larry Sanders was a groundbreaking HBO series for six seasons from 1992 to 1998, with Hollywood heavy-hitters eager to appear as themselves and gleefully skewer their own personas on the fictional late-night talk show. And the fact that 1) Shandling was one of Johnny Carson's favorite Tonight Show guest hosts, and 2) Larry Sanders directly mirrored the actual talk-show drama of the era, made the "fiction" all the more believable.
When the voice of Shandling/Sanders cracks as he says, "Frankly, I don't know what I'm going to do without you" (at the end of his goodbye monologue in "Flip," the final episode of the series), you really buy it. Apparently, so did he. The 8 hours of extras in this set can be summed up as a cathartic journey for the angst-driven actor/writer/producer, wherein he gets to revisit past sins - real or imagined - with the actual people involved. "For me, it's confronting the stuff that happened when we made the show," Shandling says to Jeffrey Tambor (hapless sidekick Hank "Hey now!" Kingsley) and Rip Torn (tough-as-brass-balls producer/protector Artie) during an interview session conducted at Shandling's house.
I could write extensively about all of Shandling's visits to past guests, but they're meant to be experienced in the moment. A few highlights, though, to whet your whistle: Alec Baldwin and Shandling square off in a boxing ring, and the two jaw more than they jab, but the dissection is deep. A sitdown with Sharon Stone allows her to eventually drop the façade and share a perhaps unexpected tenderness. David Duchovny continues to show an almost fearless lack of ego. (Make sure you also watch his deleted scene from the finale. One word: kilt!) And Jerry Seinfeld reveals the real reason why you end a show while you're still on top.