DVD REVIEW: Kolchak: The night Stalker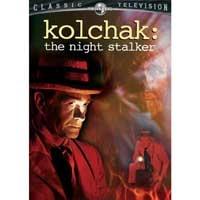 Universal
---
Series ••• Picture/Sound ••½ Extras None
Fantasy TV buffs will be pleased with this three-disc set of the 1974-75 series that was the basis for the show that came and went this season.
Darren McGavin
brilliantly plays Kolchak, the sarcastic, rumpled reporter who tracks unexplained events that always result in horrific conclusions. The 20 hour-long episodes of this
X-Files
precursor are smart, witty, and downright scary, but their resurrection on DVD isn't without some unwelcome demons. Images are disappointingly soft and plagued by blemishes - and the murky colors, while appropriately dark, occasionally obscure the action. The 30-year-old mono sound is surprisingly dynamic, however, rife with assorted ghouls' clamoring as they rampage through Watergate-era America.
[NR] English, Dolby Digital 2-channel mono; full frame (1.33:1); three dual-layer discs.
LATEST VIDEO
WHERE TECHNOLOGY BECOMES ENTERTAINMENT