DVD Review: The Jazz Singer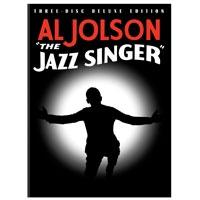 Warner
---
Movie •• Picture •••½ Sound •••½ Extras •••••
The main reason film lovers will want to get the three-disc Deluxe Edition of The Jazz Singer is that it's a mammoth collection of memorabilia, featurettes, vintage shorts, interviews, trailers, and cartoons. That's not to say this Alan Crosland-directed milestone about a cantor's son who wants to sing jazz is without merit - merit made more appreciable by the DVD's masterful, painstaking restoration of picture and sound. It's just that this is one of those rare instances when the extras far outweigh the film.
The 1927 watershed smash changed the industry forever, almost overnight killing silent pictures and launching a new era. Yet the movie's production history - a disaster-fraught saga of ill-equipped artists at odds with novices, crude electronic science, inflated egos, and murderous contemporaries - is more interesting than the film's own sentimental plot. That history, plus the scramble to perfect the talking picture and ride its bandwagon, is a fascinating and engrossing tale, chronicled marvelously in the feature-length documentary The Dawn of Sound: How Movies Learned to Talk. And it's just one part of this exhaustive commemoration of the 80th anniversary of the phenomenon that ignited as many careers as it extinguished.
Previously, I had never seen a picture from this era look good. Depending upon the condition of the original elements, the transfers were often blurred, with actors haloed in fuzzy outlines as if they were suffering from chronic radiation poisoning. This movie had been a particularly notorious example - so I was awed by the digital magic here, responsible for creating a palette of varying tone, great contrast, and razor-sharp clarity and detail. To say that Jazz Singer fans will be ecstatic is an understatement.
The audio is even better. Due to the crude methods used to originally record sound on wax discs and the damage that has been inflicted on the audio over the past eight decades, The Jazz Singer has been shown on TV and in revival houses with over-amplified bass, pops, hiss, wow, and sibilance. Remarkably, more than 90% of all that has been purged for this DVD, rendering a satisfyingly modulated presentation. In effect, for the first time ever, the film transcends sounding merely adequate or even good: It sounds great!
So do the Vitaphone shorts (almost 4 hours of them on Disc 3), some only recently resurrected from musty film vaults, having long been thought lost. The quality is amazing considering the age and neglect, and due credit must be given to Ron Hutchinson, head of the Vitaphone Project, and Nighthawks bandleader Vince Giordano (who both also offer incisive commentary). These fascinating artifacts not only entertain but also provide a link to our show-business past, preserving a piece of vaudeville for modern viewers. The irony is that the livelihoods of the highly talented folk who appear in these shorts would soon be ended by the very technology they were recruited to plug. A vast scroll of the good (Burns & Allen), the bad (Trixie Friganza), and the ugly (Bernado de Pace - Wizard of the Mandolin) makes this portion of the DVD set the most rewarding.
Other enticing delights include recently recovered fragments from 1929's Gold Diggers of Broadway (a Technicolor Holy Grail for early sound and musical buffs) and nostalgic 1940s and '50s Warner Bros. commemorative talking-picture tributes. Then there's the physical memorabilia: reproductions of a souvenir program guide, a Vitaphone program booklet, a set of production photo cards, annotated script sections, and a press book. [NR] English, Dolby Digital mono; full frame (1.33:1); three dual-layer discs.
more Entertainment reviews Back to Homepage What's New on S&V
LATEST VIDEO