DVD REVIEW: Breakfast on Pluto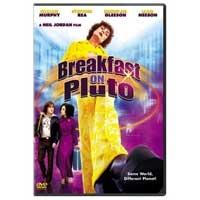 Sony
---
Movie •••• Picture/Sound •••• Extras •••
Unlike
The Crying Game
, writer/director Neil Jordan's other film about cross-dressing and IRA politics,
Breakfast on Pluto
, is fueled by the relentless optimism of its hero (a fabulous Cillian Murphy). The DVD's beautiful images, featuring a sumptuous color palette, reinforce the sunshine-infused perspective. Check out the Day-Glo tones of glam-rock London, which look positively electric in some scenes. The 5.1-channel soundtrack is full of oddly appropriate 1970s bubblegum music. Surround effects are used fairly consistently, but don't expect sweeping movement or subsonic bass; it's more about punctuation. Extras are limited to a worthwhile making-of featurette and a freewheeling and informative commentary by Jordan and Murphy.
[R] English, Dolby Digital 5.1; letterboxed (1.85:1) and anamorphic widescreen; dual layer.
more of this month's reviews Back to Homepage What's New on S&V
LATEST VIDEO
WHERE TECHNOLOGY BECOMES ENTERTAINMENT