DVD Review: Borat - Cultural Learnings of America for Make Benefit Glorious Nation of Kazakhstan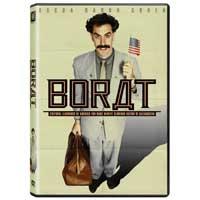 20th Century Fox
---
Movie •••• Picture •• Sound ••½ Extras •••
In his first film,
Borat
, the perpetually horny, Jew-hating, misogynist Kazakh journalist, is traveling in America to produce a documentary on Western life. Along the way, he angers some feminists, ruins a society dinner party, and falls in love with Pamela Anderson. If you've ever seen TV appearances by Borat - second alter ego of British comedian Sacha Baron Cohen on
Da Ali G Show
- you know that most of the action isn't staged; it's all about what happens when Americans feel safe to let their prejudices run free. But many of the scripted scenes are just as amusing, particularly Borat's wrestling match with his overweight producer Azamat (Ken Davitian).
This was certainly the funniest movie of 2006, and might end up the funniest of the decade. However, it doesn't come in the kind of transfer you'll want to use to show off your new home theater system. Shot on location in documentary style, the film has a grainy, soft picture. This leads to a noticeable lack of detail, so when Borat parks his ice cream truck in a field full of weeds, the background blends into one green blur. Colors aren't particularly sharp either, though black levels are strong enough to convey the full goofiness of Borat's mustache and body hair. The Dolby Digital 5.1 audio might as well have been stereo; you won't even notice that the surround channels are working until the end-credit music starts to play. Dialogue comes across just fine, but even in crowd scenes, as when Borat wanders into a Pentecostal revival, the commotion is kept in the front.
The main extras are a group of deleted scenes, and some range from uncomfortable (Borat trying to convince a masseur to provide him with "hand relief") to annoying (Borat asking a grocery clerk what every item in the store is) to hilarious (Borat explaining to a doctor how they tried to cure his brother of retardation by opening up his skull and implanting the tooth of a virgin). Apart from that, you get a few trailers, eight deleted scenes that last about 30 minutes, and Cohen/Borat's promotional appearances on Late Night with Conan O'Brien and The Tonight Show with Jay Leno. They're proof that Cohen can make us laugh just as hard when the other people are in on the joke. The DVD still feels like it should contain so much more in the way of extras (a commentary would have been fun), so I'm hoping a two-disc special edition is released soon. [R] English, Dolby Digital 5.1; French, Spanish, and Russian, Dolby Surround; letterboxed (1.85:1) and anamorphic widescreen; dual layer.
more Entertainment reviews Back to Homepage What's New on S&V
LATEST VIDEO