DVD + HDMI Page 4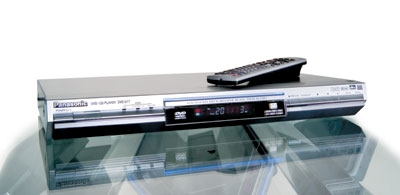 The Short Form
PANASONIC.COM / 800-211-7262 / $250 / 17 x 2.375 x 9.25 IN
Plus
•Superior progressive-scan video. •Excellent DVD-Audio sound quality. •Many user adjustments. •Plays most major disc types.
Minus
•No SACD playback.
Key Features
•HDMI output •Plays DVD-Audio, DVD-RAM, and DVD-RW VR-mode discs •Plays MP3, WMA, and JPEG pictures on CD-R
Test Bench
Vertical-resolution test patterns came through with flying colors on all outputs, and jaggies were notably absent on video-originated material in progressive-scan operation. Audio noise levels were low for CD and movie soundtrack playback and even lower for DVD-Audio.
Panasonic
A superior performer
With Panasonic's DVD-S77 we reach the big time, not only in features but also in performance. For $100 more than the Toshiba you'd expect quite a few more capabilities, and the DVD-S77 won't disappoint you. It will play DVD-Audio discs as well as DVD-RW discs recorded in the editable VR mode and even DVD-RAM discs, which the other two can't play. The only obvious omission is SACD playback, which keeps the Panasonic shy of being a true universal player - too bad considering what it does right. The remote, while lacking the Samsung's jog/shuttle dials, does allow frame stepping, slow motion, and fast scanning in either direction, making precision cueing very easy.
SETUP The Panasonic has full bass-management facilities for its multichannel analog outputs, which give you all the tools you need for optimum sound quality, including speaker-distance compensation. It also has a raft of video adjustments and processing options not available on the other players, including presets for image "enhancement," basic picture controls (including gamma), video noise reduction, and even a choice of HDMI "color space." Most of these can be left in their default settings or played with at your leisure.
MUSIC PERFORMANCE For once, a relatively inexpensive player can actually produce sound quality from a DVD-Audio disc that's better than a CD's (aside from one being multichannel and the other only stereo). While its measured background noise levels aren't the lowest I've seen, the DVD-S77 was quieter with DVD-Audio discs than even theoretically perfect CD playback - as it should be, given the lower noise floor of the DVD-Audio format.
MOVIE PERFORMANCE Panasonic has long held an edge over the competition in its processing to convert interlaced to progressive-scan video. Unlike the Toshiba and Samsung, the DVD-S77 retains full vertical resolution for its progressive-scan output and doesn't generate jaggies on diagonal edges (an all-too-common problem among the many DVD players I've tested). The player passes this superior performance to its HDMI output. As with the other players, the Panasonic's HDMI and progressive-scan outputs yielded identical-looking images from my front projector. Yet both produced better-looking video than the Toshiba or the Samsung players. The DVD-S77's video prowess came through vividly in the Monsters, Inc. DVD. Sulley's fuzzy hair had the kind of lifelike detail (both horizontally and vertically) that's supposed to be the hallmark of progressive-scan reproduction, but is all too rare.
BOTTOM LINE I can't say whether you'd get this same video quality from Panasonic's lower-priced players, since good progressive-scan conversion is a costly feature to build into in an inexpensive component. But I'm really glad that the company made the effort here. Sure, Panasonic's DVD-S77 costs two-thirds more than the Toshiba and a quarter more than the Samsung. But that buys you some great features and versatility as well as truly superior audio and video performance. The DVD-S77 can even hold its own against many of the high-end DVD players I've tested, and in comparison with them it's a genuine bargain.