DVD Diversity Page 2
Sony RDR-GX300 Pick a disc, any disc
Neither the trim front panel nor the connections and controls hidden behind a flip-down door hint at this recorder's radical nature. To start with, it's one of the few decks that can record on all four of the most popular disc types - erasable DVD-RW and DVD+RW as well as write-once DVD-R and DVD+R. Beyond that, recording on a DVD-RW disc lets you watch a program from its beginning while it's still being recorded or a program you've already recorded on the disc while recording a new one. Before this and a previous Sony DVD±R/RW deck, you needed a hard-disk or DVD-RAM recorder if you wanted to record on a disc and play back from it at the same time.

Sony RDR-GX300
DIMENSIONS (WxHxD) 17 x 3 3/8 x 13 5/8 inches PRICE $400 MANUFACTURER Sony Electronics, sonystyle.com, 800-222-7669
PLUS • Records on DVD+R/RW and DVD-R/RW blank discs • Simultaneous record/play with DVD-RW in VR mode • Good performance • IR emitter for cable box/satellite receiver supplied
MINUS • No i.Link (FireWire) input
But to take advantage of these functions, you have to follow some rules. First, you must use 2 x DVD-RW discs. (For some reason, the Sony can't record on 4 x DVD-RW discs - or on DVD+RW discs "faster" than 4 x or DVD-R and DVD+R discs faster than 8 x .) Second, you have to format the DVD-RW disc for recording in the editable VR mode, which isn't as compatible with older DVD players as the alternative Video mode. Third, the simultaneous record/play features aren't available when you record in the highest-quality HS or HSP modes, or even when you play discs recorded in them. Fortunately, the image quality in the SP mode is excellent, and the recording time is 2 hours (compared with 60 and 90 minutes, respectively, for the HS and HSP modes).
Limiting simultaneous recording and playback to DVD-RW is only one example of the Sony's "unequal" treatment of disc formats - which the manual helpfully summarizes in a formidable table. Most of the restrictions and exceptions apply to the DVD-R and DVD+R formats.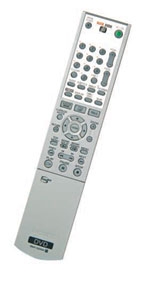 The most versatile disc is DVD-RW used in VR mode, which allows not only simultaneous record and play, but also playlist editing (where the edits are stored in a list that rapidly cues up the various segments), manual entry of chapter markers during either recording or playback, and proper recording of anamorphic (16:9) programs so they're truly widescreen when viewed on a wide-screen TV (that is, without having to activate any "stretching"). But aside from high-definition TV shows downconverted to standard-def for recording, probably the only time you'll have to worry about anamorphic copying is when you dub DV camcorder footage shot in your cam's widescreen mode.
I'm surprised the RDR-GX300 doesn't have an i.Link (FireWire) input, which would allow you to transfer DV camcorder footage digitally and avoid the color smearing that even an S-video connection will introduce. But this is really an issue only if you've accumulated a library of DV tapes.
Sony supplies a feature that inveterate time-shifters will love - an infrared emitter for controlling a satellite- or cable-TV box. There are also video noise-reduction controls for both recording and playback that can improve the quality of VHS dubs and tame the MPEG encoding "artifacts" that tend to show up in recordings using the extended-time modes.
PDF: Features Checklist
PDF: In the Lab